News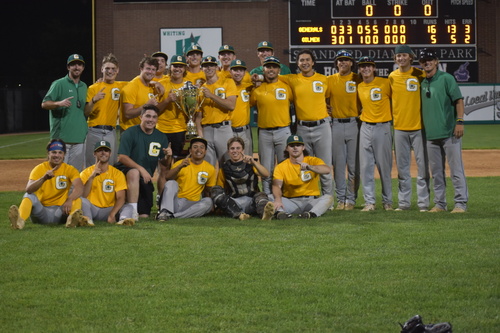 08/16/2021 9:21 AM
-
Joliet, Ill. – August 16, 2021 – Joliet faced elimination in four out of its six playoff games in the past week. If anything, The Generals embraced having their backs against the wall, and now they are champions.
The Joliet Generals (2-1) defeated the Northwest Indiana Oilmen (1-2) 16-5 in the rubber-match MCL Championship game on Sunday evening to earn the program's first ever MCL title.
"It's really hard to put into words," manager Joe Silva said. "I think that every single one of the guys that suited up for us this year is deserving of this championship.
Sava Dupor (Wisconsin-Whitewater / Glenview, Ill.) made his first MCL appearance on Sunday night and earned the win on the mound. Dupor went four innings, allowing four hits and two earned runs. He struck out three, and surrendered five hits. Garrett Moran (Trinity University / Glenview, Ill.) shut down any attempt of an Oilmen comeback in his Generals' debut, tossing five innings of scoreless relief, and earning the save. Moran allowed just one hit, and struck out three on the day.
Joliet exploded for 13 hits in Sunday's final matchup, which was on-brand for the high-octane Generals' offense seen all summer long. Michael Gould (Maryville / Naperville, Ill.) continued to be the heartbeat at the top of the lineup, and had a career day at Oil City Stadium. Gould went 3-for-7 with two homers (one inside-the-park, one grand slam), eight RBIs, and three runs scored.
Joe Virruso (South Suburban / Oak Lawn, Ill.) also carried his playoff-success into Game Three, singling twice and driving in two runs. Jimmy Cisneros (Harper / Buffalo Grove, Ill.) reached via single twice on Sunday as well.
"I'm so happy for our guys," Silva said. "They showed up every day and did what was asked of them. I could not have asked for anything more than that."
It was a year of firsts for the Generals: two first-year coaches, first above .500 record in program history, first MCL playoff appearance, first MCL Playoff series-win, first MCL title, and more. With 24 regular season wins, Joliet won more games this summer than the last two combined (eight, 13). They sent eight Generals to the MCL All-Star Game, and had just as many players hit their strides post All-Star break, propelling the Generals to a championship-win. When looking back at the history of the Joliet Generals, 2021 will be a trademark year, highlighted with a big gold cup to represent the success.
"I have to give all the credit in the world to [pitching coach] Adam O'Malley," Silva said. "I couldn't have done it without him."
What's Next
The Generals now await the announcement of All-MCL awards to be named later this week.