News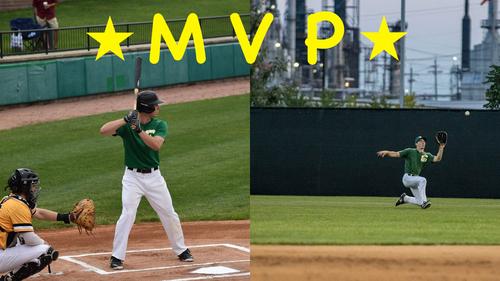 08/12/2022 11:25 AM
-
Joliet, Ill. – August 12, 2022 – With the Northern League season wrapping up earlier this week, it is now time to move into the Northern League awards.
The Generals had one major award winner that went to Michael Gould who won the Most Valuable Player of the Northern League for the 2022 season. Gould is the second General to win MVP coming after Bryce Vincent won Joliet's first in 2021.
For Gould, it was a terrific season that saw him lead the Northern League in many categories. He won the battling title in the Northern League hitting .398 in 33 games while posting an on-base percentage of .456 and slugging .633. He also was first in hits with 51 and had major power hitting a league-high 16 doubles and seven triples. Gould's 38 RBIs were also tops in the league.
"I put in a lot of hard work over the years getting better and working on my game," Gould said. "Seeing it all come together in a season felt pretty good and I was happy I was able to do it while playing for [Joe] Silva and [Adam] O'Malley."
Gould was consistent all season long for Joliet posting eight games where he had three or more hits. That included a four-hit, three RBI game against the Crestwood Panthers on June 16 and a four-hit game against the Northwest Indiana Oilmen on August 1. On that day he also had a season-high five RBIs including three extra-base hits.
"I think the key was maintaining a consistent mindset and trusting myself and the work I put in," Gould said.
On defense, he played center field for all his innings and posted a perfect fielding percentage as he didn't make a single error on the season.
"I am very comfortable in the outfield and I have played there my entire life," Gould said. "I was able to get good reads on balls and I think my speed helps me catch up to balls that I didn't have the best of reads on."
However other Joliet Generals players got recognized as four made the All-Northern League Team. That included outfielder Michael Gould along with first baseman Brennan Fisher, middle infielder Diego Munoz, and catcher Dino Biggers.
Fisher had a big year that included being ninth in the Northern League for average hitting .318. However, he had some big-time power numbers hitting eight doubles tying him for the fourth most doubles this year in the league. He also hammered three home runs tied for most on the team. Throughout his 33 games played, Fisher had nine multi-hit games including two four RBI games with one being against the Chicago American Giants on May 31 and the other facing the Northwest Indiana Oilmen on August 1.
For Munoz, he was huge on both sides of the ball including playing shortstop for just under 200 innings this year. With the bat, he hit .330 which was good for eighth in the league. He also led the league in runs scored with 47 and was second in doubles with 10. Munoz led off most of the year and drew a team-high 33 walks. He hit his only home run of the year on June 15 and followed that up on June 16 with a season-high four hits including two extra-base hits.
Biggers was a player who did a little bit of everything for Joliet. He played on the right side of the infield along with being a catcher for the Generals. Biggers posted an impressive .963 fielding percentage while catching this year. Along with fielding, he had a great year with the bat hitting .307 with three doubles, two triples, and his lone home run coming against the Chicago American Giants on July 30.
2022 All-Northern League Team
DH - Doug Loden, Lake County Corn Dogs
C - Dino Biggers, Joliet Generals
OF - Michael Gould, Joliet Generals
OF - Roman Kuntz, Lake County Corn Dogs
OF - Gavin Terry, Lake County Corn Dogs
1B - Brennan Fisher, Joliet Generals
MIF - Diego Munoz, Joliet Generals
MIF - Jack Zebig, NWI Oilmen
3B - Jimmy Gurgone, Crestwood Panthers
P - Max Everaert, Southland Vikings (unanimous)
P - Ryan Troxel, Lake County Corn Dogs (unanimous)
P - CJ Byrdak, NWI Oilmen
P - Charlie Faoro, Crestwood Panthers
MCL MVP History
2022 – Michael Gould, Joliet Generals
2021 – Bryce Vincent, Joliet Generals
2020 – Ray Hilbrich, Crestwood Panthers
2019 – Nick Santoro, DuPage County Hounds
2018 – Nate Montgomery, NWI Oilmen
2017 – Jack Butler, Bloomington Bobcats
2016 – Tyler Sroczynski, NWI Oilmen
2015 – Tyler Sroczynski, NWI Oilmen
2014 – Bobby Sheppard & Jeff Boehm, Southland Vikings
MCL Pitcher of the Year History
2022 – Ryan Troxel, Lake County Corn Dogs
2021 – Jack Guzek, NWI Oilmen
2020 – Jordan Smevoll, DuPage County Hounds
2019 – Justin Rios, Southland Vikings
2018 – Quinn Gudaitis, Bloomington Bobcats
2017 – Kevin Glynn, Southland Vikings
2016 – Mitch Weis, Bloomington Bobcats
2015 – Tom Concklin, DuPage County Hounds
MCL Manager of the Year History
2022 – Justin Huisman, Lake County Corn Dogs
2021 – Joe Silva, Joliet Generals
2020 – Isaac Valdez, Crestwood Panthers
2019 – Jake Wegner, Bloomington Bobcats
2018 – Ben Caple, DuPage County Hounds
2017 – Kevin Franchetti, Southland Vikings
2016 – Tom Barry, Joliet Admirals
2015 – Sean Osborne, DuPage County Hounds