News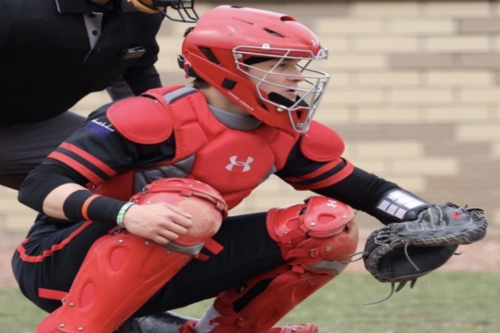 05/26/2023 9:22 AM
-
GRIFFITH, Ind. – With dozens of athletes coming to play for the Northern League in just a few days, building team chemistry quickly will be key to winning out of the gate. The Generals have several players that have multiple years of experience at the college level, and they will undoubtedly be mentors for the younger players. But one athlete at the younger end of the spectrum stands apart as a potential leader for a group of players just getting to know each other: Saint Xavier University catcher and two-time high school team captain of the Crossroads Christain Crusaders, Aaron Orzech.
The Crusaders are the only homeschooled high school baseball team in Illinois, but they made their presence known on the national stage by winning the Midwest Homeschool World Series in 2019. Orzech has a wealth of experience building relationships with teammates, which is why his high school coach placed him as a team captain during his upperclassmen years. Orzech was "heavily involved" with the Crusaders by the time he was a freshman in high school. He said the Crusaders allowed him to "showcase my skills against countless public and private schools, helping build my reputation as a player pursuing a future in college baseball."
Aaron credits his captain role to the connections he built with his teammates and his leadership style.
"I try to motivate my peers in ways that are unique to their personalities," he said. " I've found that some players are open to constructive criticism, while others are more receptive to positive reinforcement. By the time I was an upperclassman in high school, I knew how my teammates operated on and off the field, and more importantly, what got them into a focused mindset."
He quickly made his presence known at Saint Xavier, as he batted .348 and drove in 18 runs in 36 games, earning him the Chicagoland Collegiate Athletic Conference Freshman of the Year award. Aaron shared the catching reps with his older brother, Evan. He reminisced on when they were just kids when summer days were spent, "competing in countless wiffleball games, where all we cared about was remembering how many runs were scored each inning. Now, we get to share experiences that we'll remember for the rest of our lives, like becoming the 2023 CCAC tournament champions. It is truly special having someone in the dugout that has been by my side not just throughout my baseball career, but my entire life."
This summer, Aaron gets a chance to grow away from his older brother, but still under the eye of his assistant coach Peter Romsek, who is in his first season as the Generals manager. Orzech followed Romsek to Indiana because of his "ability to develop young players. His coaching style forces you to fully understand what you do and why you do it. Every time I go to Coach Romsek for a second opinion on something, I find that the conversation shifts to bouncing ideas back and forth instead of the usual, 'I say it you do it' coaching mentality."
Aaron is one of eight players to follow coach Romsek from St. Xavier to Griffith for the summer. The Generals open their season at home against the Corndogs at 7:10 p.m. on May 30.