News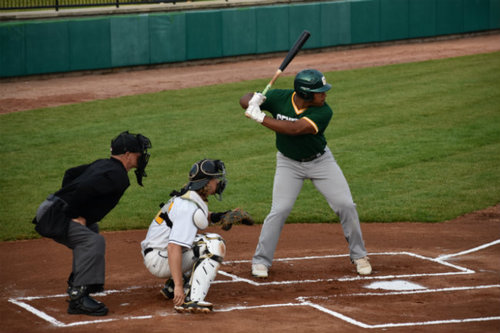 06/09/2018 3:31 PM
-
-By Sam Oppenheim
After six innings at Oil City Stadium, the Joliet Generals led the Northwest Indiana Oilmen 3-0. That changed rather quickly. In a shootout, the Generals pulled away from the Oilmen by a score of 16-11, thanks to a nine-run ninth inning.
In the bottom of the seventh, Northwest Indiana took the lead after scoring four runs. But that 4-3 lead went away in the top half of the eighth, when Joliet scored four runs of their own, which was started by Jeremiah Lebron, who hit a leadoff home run. Lebron finished 5-6 on the day, and reached second base on an error the one time he did not get a hit.
"I just tried to work on my approaches tonight, getting my hands relaxed and the barrel to the ball" said Lebron.
Lebron also got in on the action in the gigantic ninth inning scoring explosion. He led off the inning with a single, and by the time he came up the plate again, the Generals had put up five more runs. For reference, every Joliet batter reached base in the frame. After the dust had settled, the Generals scored nine runs and turned a two-run lead into an 11-run margin.
"Coach has always told us that we get a spark when the leadoff man gets on because it's contagious," said Lebron. "It's a testament to how much we want to win considering we only had 10 guys tonight."
The shorthandness on the playing field tonight was evident in the infield. Outfielders Thomas Larson and Scott Wojcik played third and second base respectively, something they had not in quite some time.
"What we did tonight was a prime example of a team effort," said Joliet manager Joe Hernandez. "These guys are playing for themselves, but more importantly playing for the guy next to them as well."
One guy the Generals relied on all night was Mike Santarelli. The starter went 8 ⅔ innings, giving up 11 runs, but was still able to grab the victory.
"I felt good and had a lot of control of most my pitches the whole game," said Santarelli. "It's really easy when you know the guys behind you can hit."
Joliet hitters did most of their damage against the usual closer of the Oilmen, Pedro Rodriguez. Rodriguez gave up 12 runs, all of them earned, in just 1 ⅔ innings of work.
Moving forward, the Generals will play travel to Chicago Heights to face the Vikings after today's game against the Hounds was postponed. First pitch is set for 1pm and will be streamed on the Joliet Generals YouTube page.