News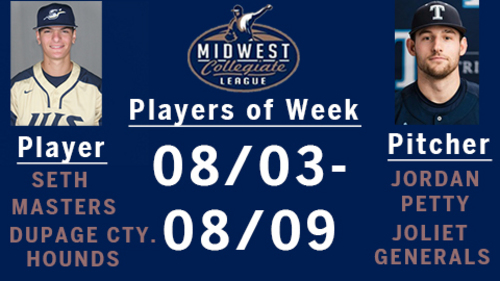 08/10/2020 10:23 AM
-
Chicago, Ill. – Aug. 10, 2020 – Joliet Generals left-hander Jordan Petty's birthday surprise came in the form of the Midwest Collegiate League Pitcher of the Week award on Monday.
Petty (Trinity Christian / Highland, Ind.) was honored by the league after two strong showings this week, joining DuPage County's Seth Masters (University of Illinois-Springfield / Orland Park, Ill.), who won the Player of the Week Award, as this week's honorees. Petty turned 22 years old on Monday.
Petty, a Northwest Indiana native and 2016 Highland High School product, is in his third season in the MCL after previously pitching with the Northwest Indiana Oilmen in 2016 and 2018. The southpaw became the first Generals player to win an MCL weekly award this season by tossing nine innings of one-run, five-hit baseball over two outings. He racked up 11 strikeouts for the week and recorded a victory in a seven-inning start on Sunday against the Minutemen.
Masters was masterful at the plate this week, stringing together four consecutive multi-hit outputs while going 13-for-19 (.684), a batting average over .200 points higher than the second-best nominee. He enjoyed a five-hit, four-double performance on Saturday at Joliet and drove in six runs while scoring seven times over the course of the week. His red-hot week included three multi-RBI games and back-to-back games with four hits or more. Masters edged out a slew of other candidates this week in a tight vote that also featured Crestwood's Cameron Bufford, Southland's Matt Monahan and Joliet's Bryant Diel.
The MCL will announce its final Player of the Week honors on Saturday morning and will announce its all-league teams and major postseason awards the day after the conclusion of the MCL Championship Series, which runs Aug. 15-17 at Oil City Stadium. Please note that the start times have changed from the initially-announced times – Game 1 on Saturday night will begin at 7:10 p.m. and Game 2 on Sunday will be at 6:10 p.m. If necessary, the decisive third game will still start at 7:10 p.m. on Monday, Aug. 17.
2020 Player of the Week Award Winners
July 13 – Justin Rios, Southland
July 20 – Patrick Doran, Minutemen
July 27 – Ray Hilbrich, Crestwood
Aug. 3 – Angelo Cantelo, NWI
Aug. 10 – Seth Masters, DuPage County
2020 Pitcher of the Week Award Winners
July 13 – Jake Karaba, Southland
July 20 – Jack Guzek, NWI
July 27 – Kyle Iwinski, NWI
Aug. 3 – Clayton Bumsted, Southland
Aug. 10 – Jordan Petty, Joliet