News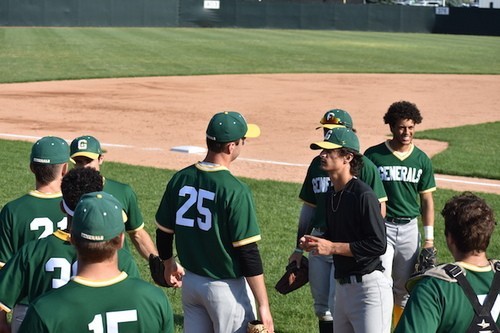 05/19/2021 12:54 PM
-
Joliet, Ill – May 19, 2021 – The Joliet Generals began revealing their 2021 roster on Wednesday with the announcement of their pitching staff. Andrew Hancock (Central Missouri / New Lenox, Ill.), Cooper Avery (Nova Southeastern / Naperville, Ill.), Kai Formella (College of DuPage / Elmhurst, Ill.), Jack Bell (Western Illinois / Minooka, Ill), Nick Hamilton (Carthage / Munster, Ind.), Matt Dinkel (Lake Land / Bolingbrook, Ill.) and Joseph Teschke (MSOE / Elgin, Ill) will all toe the mound for the Generals this summer.
Hancock is the lone arm returning for the Generals. In last year's compressed MCL season, Hancock threw 11 1/3 innings and started twice for Joliet. The six-foot-seven-inch Lincoln-Way Central product gave up eight earned runs in six appearances, and held a 6.53 ERA. He transferred to Central Missouri after taking a redshirt year at Triton College.
Avery was ranked in the top-1,000 players out of high school by Perfect Game in 2020 during his senior season at Neuqua Valley HS. The right-hander threw a strikeout per inning last summer for multiple teams, and only allowed five earned runs in 47 innings pitched. Avery is a freshman at Nova Southeastern.
Formella is in his freshman season at the College of DuPage and played for York HS in Elmhurst, Ill. He played for the Team Easton Hitmen in high school, and he is an honors student at DuPage.
Bell is one of the lefty arms for the Generals in 2021, and has allowed four earned runs in six outings for Western Illinois. He was a shutdown southpaw at Minooka Community HS, and went 3-0 with three saves his junior year.Hamilton has thrown 27 1/3 innings for Carthage this spring in his sophomore season. His best performance came in his first start of the season, tossing six scoreless innings, striking out six batters and only allowing one hit in his first outing with Carthage.
Dinkel has logged an impressive 37 1/3 innings, third most on the team, for Lake Land College this spring, including three starts. The Bolingbrook product has struck out 35 batters in his sophomore season.
Teschke is wrapping up his sophomore year at Milwaukee School of Engineering, where he threw 17 innings and struck out 13 batters with a 1-1 record. Teschke was recruited out of high school as both a pitcher and a corner-infielder.