News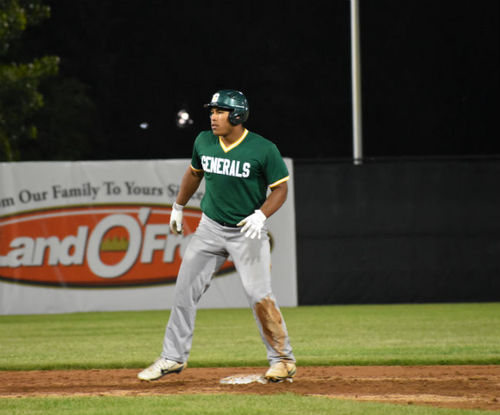 06/12/2018 11:17 AM
-
-By Sam Oppenheim (Contribution by Brandon Vickrey)
While Joliet only played four games this week because of rainouts, Jeremiah Lebron made them count. The Generals outfielder was named the Hitter of the Week in the Midwest Collegiate League for June 4-10. Yesterday, the league tabbed Lebron for the award.
From the league office: "Lebron helped the Generals (5-4) to a three-game winning streak to close the week that included wins over Bloomington, Crestwood and Northwest Indiana. On the season, he owns a team-best .438 average to go along with two home runs and six RBIs. During the week, he had multiple hits in three of his four games, compiling a .526 average (10-for-19) while launching a home run and driving in a pair. He closed the week with a five-hit output in a game against the Oilmen, in a 16-11 Joliet victory."
Lebron is a rising sophomore at the University of Illinois. The Bolingbrook native is currently tied for the league-lead in home runs at two with the Oilmen's Nate Montgomery. But, Lebron's performance in the top tier of the MCL does not end there. In what may be a category more worthy of praise, he also leads the MCL in stolen bases with seven.
The power and speed from the outfielder boosted Joliet to a three-game winning streak. Lebron and the Generals will look to keep the momentum going in a full slate of games this week.