News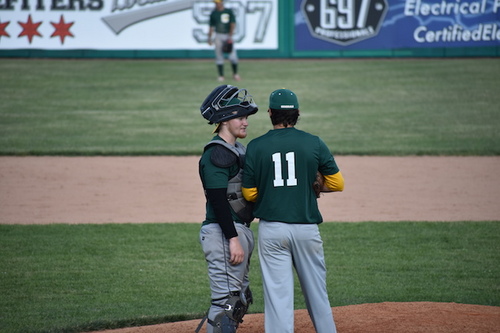 06/17/2021 11:20 PM
-
Joliet, Ill. – June 17, 2021 – Not every night do the baseball gods hand out opportunities to win after blowing a lead, let alone a pair of them. Andrew Smart (Oakton / Evanston, Ill.) was lucky enough to find himself with a chance to be the hero, and he capitalized in the clutch.
Smart legged out a two-RBI triple in the ninth inning to give the Joliet Generals (7-3) the game-winning 14-12 lead over the Chicago American Giants (6-4) on Thursday at Gouwens Park in South Holland, Ill.
The offensive onslaught started in the first inning when the Generals put up a crooked four runs in the top half, led by a two-RBI triple from Cole Luedeking (Central Methodist / Freeport, Ill.), his second extra-base hit this season.
The Generals offense tallied 12 hits in their win, second-most all season for Joliet.
Ryan Kiolbassa (Lake Land / Hoffman Estates, Ill.) and Bryce Vincent (Concordia-Chicago / Algonquin, Ill.) followed up their multi-hit performances on Wednesday with two and three hits, respectively. Smart also had two hits, and drove in a team-high four runs at the plate.
Michael Gould (Maryville / Naperville, Ill.) was rock-solid on both sides of the field, collecting the win on the mound after pitching two scoreless innings in relief to end the game. Gould also had a pair of RBI's and a single to help himself out.
"[Gould is] a stone-cold barrel," manager Joe Silva said." "That is what [pitching coach Adam] O'Malley and I say about him.
Silva said Gould's web gem on the mound in the eighth inning that robbed Corey Graham of a bunt-single was "one of the best plays I've seen a pitcher make ever."
Cooper Avery (Nova Southeaster / Naperville, Ill.) got the nod today for the Generals on the mound, and threw five innings, allowing three earned-runs while striking out five. He set himself up for the win, but the Generals were not able to hold on to their 11-6 lead at the time to solidify Avery with the statistic.
Situational hitting was the name of the game for Joliet, recording 13 baserunners via walk, hit-by-pitch, or error. After scoring 14 runs total, it is safe to say their execution with runners in scoring-position proved paramount.
"It goes to show the character and heart that every single one of these guys has on the roster, top to bottom," Silva said.
What's Next?
The Generals travel to Riverside Park on Friday for their first matchup of the season against the MCL Minutemen. First pitch will be at 5:05 p.m.