News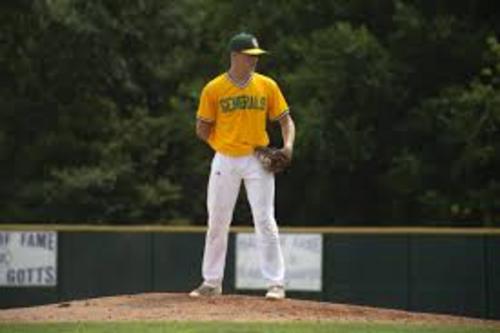 06/21/2021 11:13 PM
-
Joliet, Ill. – June 21, 2021 – There always seems to be a heightened sense of excitement and competitiveness when the sun goes down at Lee Pfund field in Carol Stream, Ill. Joliet took advantage of the atmosphere once more in another home-field thriller on Monday night.
The Generals (9-3) extended their winning-streak to four games after their 5-4 victory over the Southland Vikings (5-11).
Noah Jordan (Elmhurst / Bismarck, Ill.) had the spotlight shining on him again in a save-opportunity, up by one run in the ninth. After a leadoff single from Darrius Little, Little was able to advance to third via a stolen base and a wild pitch. With the tying run on third, Jordan recorded three straight outs, including a ground ball in which Brennan Fisher (Quincy / Westchester, Ill.) gunned down Little, the tying run, at the plate. The relatively clean ninth inning extended Jordan's scoreless innings streak to 7 ⅓ to start the summer.
"[Jordan] just has the ultimate bulldog mentality," manager Joe Silva said. "He's got a lot of confidence rolling. He's getting ahead, attacking hitters, doing everything we talk about."
Joey Teschke (MSOE / Elgin, Ill.) had his best start of the season, throwing five innings, allowing just one earned-run off five hits and seven strikeouts. Matt Dinkel (Lake Land / Bolingbrook, Ill.) struck out five Vikings in two scoreless innings of relief. Drake Berman (Benedictine / Wauconda, Ill.) recorded the hold in his first appearance since the first week of the summer.
Christian Seegers (Oakton / Schaumburg, Ill.) did the heavy lifting in the batter's box for the Generals, and was Monday's MVP. Seegers had RBI doubles in each of his first two at-bats, recorded a sac-fly RBI, and a single. He also made two solid plays in the ninth inning: one with the infield in while holding Little at third base, and one charging a slow-roller to end the game.
"[Seegers] is a coach's dream," Silva said. "The way he approaches those gap-doubles to right-center, some of the stuff, mechanically and power-wise, you can't really teach as a coach, and [pitching coach Adam O'Malley] was the guy to go out and get him with the Oakton crew. It's just been a pleasure so far to watch all of them."
Fisher and Michael Gould (Maryville / Naperville, Ill.) extended their hitting streaks to four and seven, respectively. Ryne Wiederer (St. Xavier / Hoffman Estates, Ill.) has now hit safely in back-to-back appearances following his triple on Monday.
What's Next
The Generals head to Prairie State College to take on the MCL Minutemen (3-9) on Thursday. First pitch is scheduled for 5:05 p.m.