News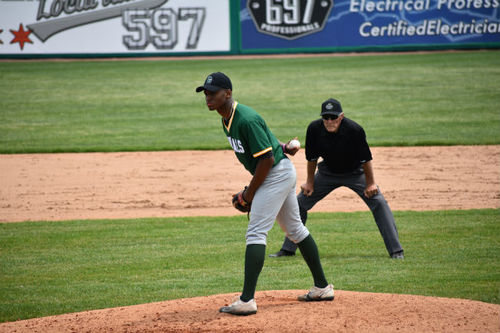 06/14/2018 3:15 PM
-
-By Sam Oppenheim
Very rarely are MCL games scheduled before noon. Today, it seemed like the Joliet Generals needed a wake up call in an 8-4 loss to the Northwest Indiana Oilmen.
Right after the 11am start, The Oilmen jumped on Generals pitcher Logan DeWulf, as all nine batters came to the plate in the first. Northwest Indiana was able to manage four runs on four hits and two errors in the frame.
"[DeWulf] did not seem really comfortable on the mound from the first pitch," said Joliet manager Joe Hernandez. "The walks, hits, and the two errors from that inning really adds up."
DeWulf was pulled after 80 pitches in four innings of work, after giving up seven hits and six runs, three of them earned. A bright spot for Joliet was new pitcher Jordan Baker. Baker, a recent graduate from Marian Catholic, made his first appearance of the season after being added to the roster recently. He went 2 ⅔ innings in relief giving up two runs on three hits. He also had four strikeouts, one of which against a familiar face. Jordan Baker struck out his brother, Oilmen outfielder Chris Baker, on three pitches in the 6th.
"It's a special baseball memory," said Hernandez. "He pitched very well once his nerves went away."
Offensively, the Generals could not provide enough run support as Max Franklin threw six strong innings on just 76 pitches for the Oilmen. In his quality start, Franklin gave up three runs on six hits before passing the baton to George Sherman, who went the rest of the way.
Up next for the Generals is a matchup against the first-place DuPage County Hounds. The Hounds have had the upper hand thus far, winning 15-11 and 14-11 in the two meetings. Once again, both teams are primed for another shootout. First pitch is scheduled for 5pm at Wayne King Field and the game will be broadcasted on Generals YouTube page.