News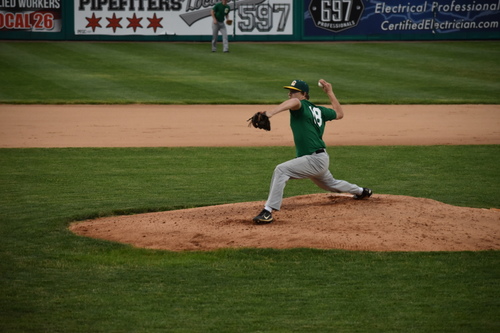 07/15/2021 10:58 PM
-
Joliet, Ill. – July 15, 2021 – Coming into Thursday's contest, the NWI Oilmen had reason to feel comfortable with their four-game lead for first place in the MCL. After Thursday, the Generals could look to make a run at the one-seed.
The Joliet Generals (13-9) defeated the Northwest Indiana Oilmen (16-6) 5-1 on Thursday night at Oil City Stadium in Whiting, Ind.
Cooper Avery (Valparaiso / Naperville, Ill.) allowed one run in the first inning, but was lights-out for the next four. Avery struck out nine and allowed just four hits in the win. He is now 3-0, and tied with Jack Bell (Western Illinois / Minooka, Ill) for the most strikeouts on the team (35). Jacob Ferguson (Trinity International / Oswego, Ill.) extended his scoreless-inning streak to six, tossing four shutout innings of relief and earning the save.
Nate Gehrke (Lake Land / Joliet, Ill.) and Bryce Vincent (St. Ambrose / Algonquin, Ill.) each had a pair of singles and a run scored. Christian Seegers (Oakton / Schaumburg, Ill.) added two hits, including an RBI-double. Jimmy Cisneros (Harper / Buffalo Grove, Ill.) and Andrew Smart (Oakton / Evanston, Ill.) both added RBIs as well.
"The first three innings, we left four guys on base that were all in scoring position," manager Joe Silva said. "And then after that, we were able to capitalize with runners on and execute with runners in scoring position. Cooper [Avery] set the tone, and we carried it."
The Generals now hold the advantage at 2-1 in the season series over the Oilmen.
"It's a great feeling," Silva said. "[Oilmen manager TJ Marik] has got them playing well, and they were hot coming into this one. It's a credit to our guys for staying on them all nine innings."
What's Next
The Generals have the weekend off before hosting a doubleheader against the Southland Vikings (10-16) on Monday night at Lee Pfund Field in Carol Stream, Ill. Game one is scheduled for 5:05 pm.