News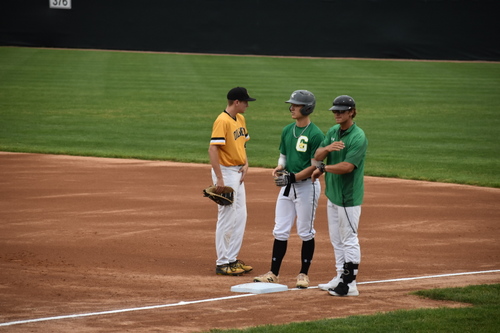 07/19/2021 8:35 PM
-
Joliet, Ill. – July 19, 2021 – Heading into the 2021 MCL All-Star Game, the Generals have now officially surpassed their win totals from each of the last two seasons.
The Joliet Generals (14-9) held on to beat the Southland Vikings (11-17) 4-3 in a tight battle at Lee Pfund Field in Carol Stream, Ill.
Matt Dinkel (Lake Land / Bolingbrook, Ill.) earned his second win of the season, matching his season-high in innings-pitched (four), and striking out eight for a season-high. It was Dinkel's first shutout appearance of the summer, and he surrendered just two hits in the win. Vernon McKinley (Rockford / Streator, Ill.) recorded his first save of the season, and has not allowed an earned run since his first appearance in early June. He currently holds a 1.04 ERA.
Andrew DeMatteo (Ripon / Orland Park, Ill.) added two hits and an RBI offensively, his 9th RBI of the season.
"Andrew DeMatteo is a kid who shows up every day and works his tail off," manager Joe Silva said. "He competes in the batter's box and defensively, he's a strong guy for us. All [Vernon McKinley] has done is come in and pound the zone, giving us a chance defensively."
Brandon Matias (Oakton / Glenview, Ill.) and Ryan Kiolbassa (Lake Land / Hoffman Estates, Ill.) each added an RBI as well.
The Generals now lead the season-series 5-2 over the Vikings.
"The first half [of the season] went pretty well," Silva said. "Our guys show up to the ballpark every day with an energy that's focused, and I really appreciate that out of them. We're going to be running through the gauntlet now, we're going to be relying on everyone and making sure everybody is well-rested."
What's Next
Eight Generals will compete in the MCL All-Star Game on Tuesday at Oil City Stadium in Whiting, Ind. The All-Star game will be broadcast on AM 1230 WJOB and in picture on Jed-TV. The Generals host the MCL Minutemen (5-17) on Wednesday at Benedictine University. First pitch is scheduled for 7:05 p.m.