News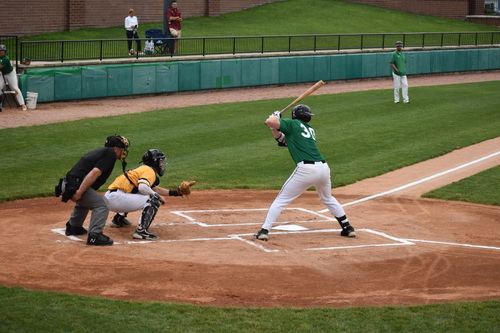 07/22/2021 8:34 PM
-
Joliet, Ill. – July 22, 2021 – After two dominant starts on the road, it is almost time to declare
Nick Vollmert
(St. Ambrose / Crystal Lake, Ill.) the king of Riverside Park.
Vollmert earned the win for the Joliet Generals (15-10) in their 8-4 victory over the Crestwood Panthers (14-15) on Thursday night in Hammond, Ind. He threw six innings (matches
season-high), striking out three and allowing one earned run. Going into the sixth inning, Vollmert had surrendered just one hit.
"I think [Vollmert] is very comfortable on the bump [at Riverside]," manager
Joe Silva
said. "He's just got a good presence out there, and I'm glad we were able to break it open for him in the later innings."
The offensive attack was driven by exceptional individual performances as well.
Ryan Kiolbassa
(Lake Land / Hoffman Estates, Ill.) plated the first two runs of the game with a two-RBI double in the second inning.
Brennan Fisher
went 2-for-3 on the day, adding a three-run homer in the sixth inning for his second on the year. Fisher now leads the team in home runs.
"Fisher is a guy who loves hitting," Silva said. "He loves the art of it, with the approach and the mechanics. We kinda talked through everything after he popped out earlier in the game, and he just made an adjustment."
Matt Santarelli
(Western Illinois / Lockport, Ill.) drove in two runs on a single as well.
What's Next
The Generals return to Benedictine University at 7:05 p.m. tomorrow to take on the Chicago American Giants (13-13).