News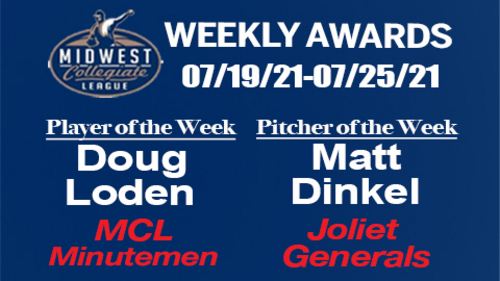 07/26/2021 8:51 AM
-
Joliet, Ill. – July 26, 2021 – The Midwest Collegiate League announced its weekly award winners on Monday as Matt Dinkel (Lake Land / Bolingbrook, Ill.) of the Joliet Generals garnered the league's Pitcher of the Week honor.
Dinkel held Southland scoreless over four innings while permitting just two hits and striking out eight in his start on Monday, July 19. He picked up the victory as the Generals edged the Vikings 4-3. Dinkel holds a 2-3 record and 3.32 earned run average this season while striking out 32 and walking 18 in 19 innings of work over six games (five starts). He is the second General to win MCL Pitcher of the Week this season, joining Nick Vollmert on June 21.
The MCL will continue to announce its weekly awards each Monday for the remainder of the season.
2021 MCL Player of the Week Award Winners
June 7 – Tyler Schultz, Crestwood
June 14 – Tre' Hondras, CAG
June 21 – Zamaurion Hatcher, NWI
June 28 – Christian Seegers, Joliet
July 5 – Colin Bruce, NWI
July 12 – Josh Williams, CAG (unanimous)
July 19 – Kevin McCormick, NWI (unanimous)
July 26 – Doug Loden, Minutemen
2021 MCL Pitcher of the Week Award Winners
June 7 – Benny Guevara, Crestwood
June 14 – Jake Paymaster, Southland
June 21 – Nick Vollmert, Joliet
June 28 – Jack Guzek, NWI
July 5 – Jake Paymaster, Southland
July 12 – Nick Miketinac, NWI
July 19 – Matt Lelito, NWI
July 26 – Matt Dinkel, Joliet