News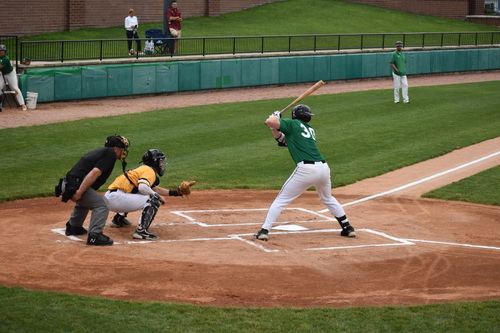 08/02/2021 10:32 PM
-
Joliet, Ill. – August 2, 2021 – First place is within striking distance once again, and the Generals are poised to make a run at the regular-season title.
The Joliet Generals (23-12) defeated the Northwest Indiana Oilmen (22-10) 9-3 on Monday night at Lee Pfund Field in Carol Stream, Il.
Matt Dinkel (Lake Land / Bolingbrook, Ill.) continued his string of success on the mound with another win and solid pitching performance. Dinkel struck out a season-high nine batters in six innings of work, also a season-high. He allowed just two hits, and did not suffer any runs. After seven starts, he holds a 4-3 record and a .248 ERA.
"It's great to see a kid like [Dinkel] make as much progress as he has this summer," manager Joe Silva said. "He came out today with all the confidence in the world and shut down a really good hitting team in the Oilmen."
Offensively, Joliet was equally as impressive. Brennan Fisher (Quincy / Westchester, Ill.) reached base in all five of his plate appearances, walking three times, and doubling twice. Fisher also scored all five times. Bryce Vincent (St. Ambrose / Algonquin, Ill.) went 3-for-4, extending his hitting streak to eight games. Vincent walked once, and drove in three RBIs.
Jimmy Cisneros (Harper / Buffalo Grove, Ill.) and Matt Santarelli (Western Illinois / Lockport, Ill.) each recorded their first triples of the summer.
The Generals now find themselves a half-game out of first place going into their final four games of the regular season.
"[Winning the regular-season title] is gonna take our guys showing up to the ballpark with that same competitive fire and edge that I ask and that they bring every single day," Silva said.
What's Next
The first of back-to-back matchups against the Crestwood Panthers (19-18) will take place on Tuesday at 7:05 p.m. at Lee Pfund Stadium in Carol Stream, Ill.