News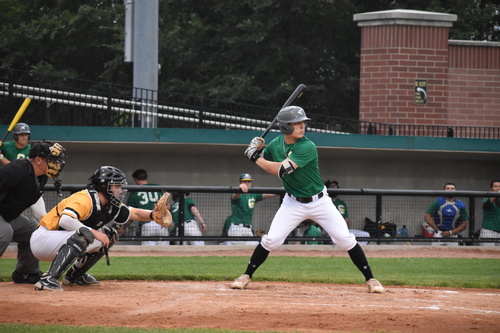 08/06/2021 11:51 PM
-
Joliet, Ill. – August 6, 2021 – In unfortunate fashion, the most anticipated matchup of the Generals' season was cut short in the midst of a game for the ages.
The Joliet Generals (24-14) and Northwest Indiana Oilmen (23-11) will not complete a suspended 5-5 ballgame that was canceled due to rain. Due to the incompletion, the Generals are now officially the two-seed in the MCL Playoffs.
Jack Bell (Western Illinois / Minooka, Ill.) threw two and ⅔ innings of no-hit relief, striking out four hitters and walking none. Jacob Ferguson (Trinity International / Oswego, Ill.) followed out of the bullpen, allowing two runs (one earned) as the rain began to pour down in the bottom of the ninth. Ferguson struck out three in three prior innings of work.
Brandon Matias (Oakton / Glenview, Ill.) recorded the first hit of the game with an RBI single in the third inning. Matias went 1-for-5 with two RBIs on the night. Brennan Fisher (Quincy / Westchester, Ill.) added an RBI single in the ninth inning to take the late lead.
"Overall, I'm proud of how the guys competed," manager Joe Silva said. "We really settled in down the stretch, and it was cool to compete with the atmosphere and the big crowd."
The Generals finish the regular season with a 24-14 record, which is three more wins than the last two seasons combined.
What's Next
The Generals await their opponent, either Southland or Crestwood, but they will play the first-round opener Tuesday evening at Oil City Stadium. First pitch is scheduled for 4:10 p.m.
"Our approach has gotta be one game at a time," Silva said. "If we take it one game at a time and bring our energy to the ballpark, we will be able to compete."