News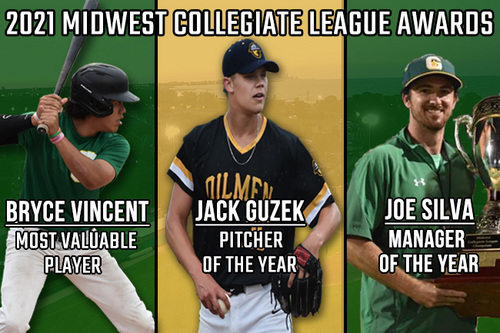 08/18/2021 2:29 PM
-
Joliet, Ill. – Aug. 18, 2021 – After completing its 12th season of showcasing young stars and aiding collegiate ballplayers in their development, the Midwest Collegiate League announced its annual postseason honors on Wednesday.
After guiding a turnaround that saw the Joliet Generals finish the regular season with a 24-14 record after going 8-24 in 2020, Joe Silva was named the MCL Manager of the Year. Silva, also an assistant coach at Benedictine University, led the Generals to the first MCL Championship in franchise history in his first season at the helm, going 4-0 in elimination games in postseason play. The team finished second in the regular-season standings, earning the No. 2 seed for the MCL Playoffs. Silva is the first Generals manager to earn this distinction and first Joliet skipper to do so since Tom Barry of the Joliet Admirals in 2016.
Generals infielder Bryce Vincent (St. Ambrose / Algonquin, Ill.) was named the MCL's Most Valuable Player after threatening the league's batting average record by finishing at .452 in his 23 games. He belted four doubles, three triples and a home run while accruing 21 RBIs and scoring 19 times. Vincent posted an on-base percentage of .490 while slugging .591 for the Generals. He also stole six bases and enjoyed 14 multi-hit performances including a season-high four hits on June 9 at Northwest Indiana. Vincent's lone home run of the year came in his first game of the summer on June 7 at Southland. He became the first Joliet player to win the MCL MVP Award. Vincent edged Tre' Hondras (College of Central Florida / Flossmoor, Ill.) of the Chicago American Giants and Jacob Ferry (Morehead State / Aurora, Ill.) of the Northwest Indiana Oilmen in one of the closest MVP votes in league history.
2021 MCL All-League Team
P – Michael Laudondo, Crestwood Panthers
P – Jack Guzek, NWI Oilmen (unanimous)
P – Billy Lepretre, Chicago American Giants
P – Nolan Vlcek, Southland Vikings
P – Jake Paymaster, Southland Vikings
OF – Ronald Applewhite, Crestwood Panthers
OF – Tre' Hondras, Chicago American Giants
OF – Jacob Ferry, NWI Oilmen
C – Gannon Andrews, Crestwood Panthers
1B – Patrick Doran, Southland Vikings
2B – Kevin McCormick, NWI Oilmen
SS – Bryce Vincent, Joliet Generals
3B – Casey Kmet, NWI Oilmen
UTL – AJ Wright, NWI Oilmen
MCL Manager of the Year History
2021 – Joe Silva, Joliet Generals
2020 – Isaac Valdez, Crestwood Panthers
2019 – Jake Wegner, Bloomington Bobcats
2018 – Ben Caple, DuPage County Hounds
2017 – Kevin Franchetti, Southland Vikings
2016 – Tom Barry, Joliet Admirals
2015 – Sean Osborne, DuPage County Hounds
MCL MVP History
2021 – Bryce Vincent, Joliet Generals
2020 – Ray Hilbrich, Crestwood Panthers
2019 – Nick Santoro, DuPage County Hounds
2018 – Nate Montgomery, NWI Oilmen
2017 – Jack Butler, Bloomington Bobcats
2016 – Tyler Sroczynski, NWI Oilmen
2015 – Tyler Sroczynski, NWI Oilmen
2014 – Bobby Sheppard & Jeff Boehm, Southland Vikings
MCL Pitcher of the Year History
2021 – Jack Guzek, NWI Oilmen
2020 – Jordan Smevoll, DuPage County Hounds
2019 – Justin Rios, Southland Vikings
2018 – Quinn Gudaitis, Bloomington Bobcats
2017 – Kevin Glynn, Southland Vikings
2016 – Mitch Weis, Bloomington Bobcats
2015 – Tom Concklin, DuPage County Hounds