News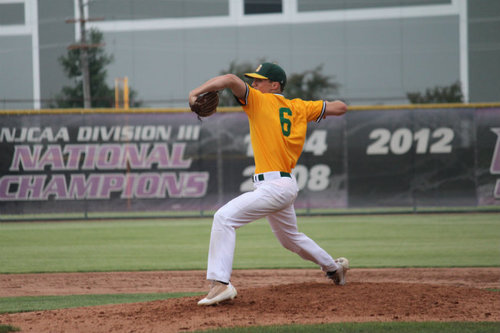 06/20/2018 9:14 PM
-
-By Sam Oppenheim
Yesterday, 13 was a lucky number for the Joliet Generals. Today, the Generals experienced the exact opposite feeling. After defeating the Crestwood Panthers 13-0 last night, Joliet could not keep with the Northwest Indiana Oilmen tonight, falling 13-9.
The Oilmen, who came in with a five-game winning streak, were powered by a nine-run 8th inning to put the game out of reach.
"[Herbst] got a little bit overextended," said Joliet manager Joe Hernandez.
Up until that point, Alex Herbst had two solid innings in relief of Carter Lawler, but he exited with seven earned runs in the 8th.
"He was nibbling on the border and wasn't getting strikes and did not have enough gas on his fastball," said Hernandez.
In the bottom of half of the inning, the Generals offense responded. But the inning ended in an unfortunate way. On a Josh Nowak double to right field, Brett Stratinsky was out on the plate on a great recovery by Nate Montgomery. Stratinsky, a player not known for his speed, was waved around third by Hernandez.
"We needed a run right then and there," said Hernandez. "He took a really wide turn around third base and almost ran into me."
Joliet managed to score one run in the 9th, but Tyler Woynerowski was thrown out trying to stretch a double into a triple to end the game.
Tomorrow, the Generals look to bounce back against the DuPage County Hounds, who have lost three games in a row. First pitch is set for 5pm and the game will be broadcasted on the Generals YouTube channel.