News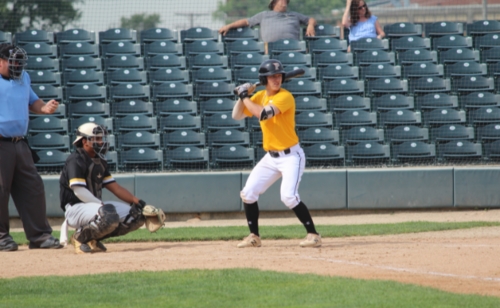 05/22/2022 7:08 PM
-
Joliet, Ill – May 22, 2022 – The Joliet Generals have announced their final 2022 roster for position players on Sunday.
For the infield the Generals will have Christian Jacob (Concordia Chicago / Scottsdale, Ariz), Bryce Vincent (St. Ambrose, / Algonquin, Ill), Jack Dupuis (Oakton / Wheaton, Ill), Aaron Vertuno (Oakton / Lake Villa, Ill), Jorgie Vazquez (Triton / Chicago, Ill), Diego Munoz (Western Illinois / Chicago Heights, Ill), Grant Cwick (Oakton / Arlington Heights, Ill) and Daniel Fierro (Bryant & Stratton / Braidwood, Ill)
Jacob was a 5A high school state champion in the state of Arizona in 2019. He started 33 games for the Cougars his junior year.
Vincent was the MVP of the MCL last year. He hit 327 this year with the Fighting Bees.
Dupuis was 31st SS in IL in the class of 2020. Vertuno was the 14th ranked first baseman in Illinois. They both currently play for the Owls of Oakton.
Vazquez was a huge force at the plate in high school at Mount Carmel. He now plays for Triton.
Munoz also went to Mount Carmel. He has played in 26 games for the Fighting Leathernecks.
Cwick in just 21 at bats this year has nine hits. He went to high school at St. Viator in Chicago.
Fierro has in 39 at bats a .340 on-base percentage. He helped lead his high school to a state championship in 2016.
Catchers will be Jimmy Cisneros (Roosevelt / Wheeling, Ill), Dino Biggers (Illinois Wesleyan / Naperville, Ill) and Will Sommers (Concordia Wisconsin / Mount Prospect, Ill).
Cisneros has played in six games for the Lakers and has a .571 on-base percentage.
Biggers was a two-year letterwinner in baseball at Naperville Central. He has played in 25 games for the Titans over his first two seasons.
Sommers has played his freshman year for the Falcons. He has been batting but also had no errors his freshman year behind the dish.
For the outfield the Generals have Michael Gould (Maryville / Naperville, Ill.), Joseph Virruso (South Suburban / Hometown, Ill.), Brandon Matias (Oakton / Glenview, Ill.), Jake Mucha (South Suburban / Homer Glen, Ill.), Brennan Fisher (Quincy / Westchester, Ill.), Jack Owens (Concordia Wisconsin / Chicago, Ill.), Tom Stoodt (Occidental / Chicago, Ill.), Jalen Avery (Oakton / Oswego, Ill.) and CJ Terronez (Kaskaskia / Moline, Ill.)
Gould played in all 40 games for the Saints in 2021. This year he has played in all 52 games and has hit .339 with 37 RBIs.
Virruso went to Oak Lawn high school. He played his freshman season with the Bulldogs.
Matias played at Glenbrook South in high school. He is just a sophomore in college.
Mucha was the 231st ranked third baseman in the country. Along with that the Bulldogs got the 11th ranked third baseman in Illinois.
Fisher was the sixth ranked first baseman in Illinois. He had the first hit of his college career back in April for the Hawks.
Owens went to Notre Dame College Prep. He was able to help his team be the ESCC North Champions in 2018.
Stoodt has started in 20 games in college. He also played last year with the Generals.
Avrey played at Oswego East high school. He now plays at Oakton.
Terronez went to Alleman high school. He now plays for Kaskaskia.