News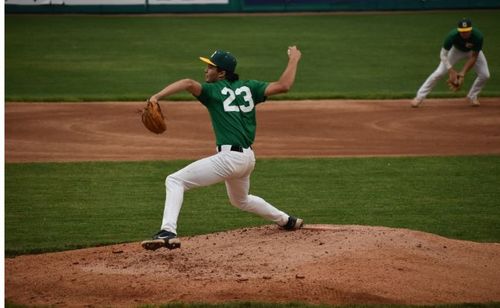 06/08/2022 11:34 PM
-
Carol Stream, Ill. – June 8, 2022 – The Generals split a doubleheader Wednesday in their first couple matchups this year against the Panthers.
They took the first game by a score of 4-3 and dropped the second game 6-5. Both games were seven innings.
Early in the season, the Generals starting pitching has been strong and that didn't change today. Cooper Avery started the afternoon on the mound and threw five innings and allowed just two earned runs and six hits. Along with the great starting pitching, the bullpen was also big. Kai Formella got a big save in the top of the seventh inning to seal the win.
"Kai was nails and he did a very good job," Manager Joe Silva said.
Joliet came in with a three-game losing streak and a big part of the reason they were able to snap it today was the hitting of the Generals. The top three batters had six of the Generals eight hits including two big doubles and the game-winning play made by former MVP Bryce Vincent.
"I was really excited, I love having the ball hit to me," Vincent said. "I was really praying that I made the play because I wanted to do it for Kai."
Although the Generals have faced some adversity throughout the season, the team is confident in what they can do every game.
"I think it's how much love we have on the Gens, it's so much fun to come out here and play with everyone," Vincent said. "I think it's just us coming out here and continuing to have fun is really the key for us to be successful."
As for the second game, the Generals scored five runs in the first two innings but were unable to capitalize later in the game and ended up falling after a four-run sixth inning for the Panthers.
The Generals look to take two out of three games against the Panthers this week as they head to Marian Catholic High School on Thursday. First pitch is scheduled for 5 p.m. and the broadcast will be available on Facebook Live.