News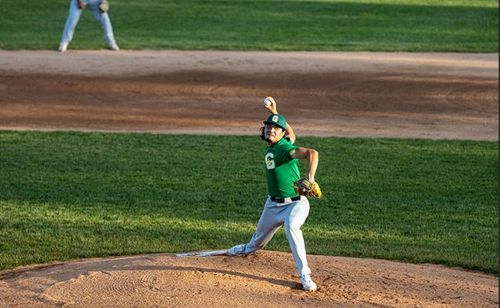 06/15/2022 12:15 AM
-
Whiting In. – June 14, 2022 – The Generals were able to pull off a wild win that was capped off with a diving catch by Jalen Avery.
They hung on to win by a score of 8-7.
A wild finish to another Generals-Oilmen game and this one might have topped the other matchups this season. With two outs in the ninth inning and the Oilmen down one run with a runner on first and second, Jalen Avery made a diving catch in left field.
"I was thinking I gotta make this play and we gotta win this game," Avery said. "I wanted the ball to come to me anyways and it found me."
After Cooper Avery went four strong innings to start the game allowing just two runs, a lot of the game relied on Joliet's bullpen. They delivered as Matt Dinkel and Will Jaynes combined to pitch the last four innings allowing just two runs. However, the Oilmen had traffic around the bases almost every inning and the bullpen was able to pull through.
"This is what we envisioned with those guys," Manager Joe Silva said. "Matt Dinkel, Will Jaynes, those are our guys to close it out in tight games. It was great to see them find success yet again today and something we can build off going forward."
Even with Joliet scoring eight runs in the first three innings, they were unable to knock in more runs throughout the rest of the game. However they scored just enough to knock off the Oilmen in a thriller tonight.
"We want to capitalize with runners on and being able to work counts a little better," Silva said. "I didn't think anything was out of whack with our hitters, it's just some balls were not falling.
The Generals look to build off this win as they head to Dowling Park to take on the Southland Vikings on Wednesday. First pitch is scheduled for 5 p.m. and the broadcast will be available on Facebook Live.