News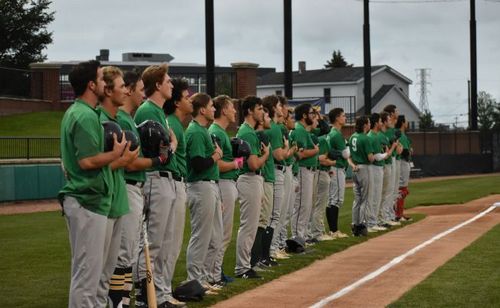 07/05/2022 2:52 PM
-
Joliet, Ill. – July 5, 2022 – The Northern League announced the rosters for the 2022 All-Star game on Tuesday. The Generals have eight players who will be on the West All-Stars, coached by Generals head coach Joe Silva.
CJ Terronez (Kaskaskia / Moline, Ill.) has been excellent for the Generals this year as he is hitting .447 on the season. He is 5th on the team in hits despite only having 38 at-bats. Terronez has been great with his glove this year posting a .944 fielding percentage and has played all outfield positions for at least 10 innings this year.
Michael Gould (Maryville / Naperville, Ill.) is 3rd in the NL in average hitting .379 with the minimum being 2.7 plate appearances per game. He also is tied in the NL for most doubles with eight. Gould's bat has been great but so has his leather posting a perfect fielding percentage playing all of his innings in center field.
Logan Schwarting (Lewis / Joliet, Ill.) leads Joliet in innings pitched with 28 which is also 7th most in the NL. Also, he is tied for the team lead in games he has appeared in this year including three starts. Schwarting has been able to keep a perfect fielding record this year as well.
Diego Muñoz (Western Illinois / Chicago Heights, Ill) has been huge for the Generals this year hitting .367 which is 5th in the NL, and has played three of the four infield positions. He also has one of the five home runs they have this year and has a ridiculous 18 walks to just 7 strikeouts.
Bryce Vincent (St. Ambrose, / Algonquin, Ill) is 7th in the NL in average, batting .349/.417/.460. He is also third on the team in RBIs with 14. Even with Vincent having the second most at-bats on the team at 63 he only has struck out five times this year which is tied for second-lowest on the team with a minimum of 30 plate appearances.
Cooper Avery (Valparaiso / Naperville, Ill.) has the 8th lowest ERA in the NL at 4.29. Avery has also allowed just two extra-base hits in his 21 innings of work. He leads the team in starts with five and is also second on the team in strikeouts with 22.
Jack Bell (Western Illinois / Minooka, Ill.) leads the team with a 3.86 ERA with a minimum of 10 innings pitched. Bell also leads the team in strikeouts with 23 in just 14 innings of action. He, unfortunately, will not be able to participate in the All-Star game.
Brennan Fisher (Quincy / Westchester, Ill.) has hit in the middle of the Generals lineup the entire year and has hit .302 with an OPS of .891. Fisher has hit five extra-base hits including one home run for the Generals. Along with his bat, Fisher has posted a perfect fielding percentage at first base this year.
The Northern League All-Star game will take place on Tuesday, July 12 at Oil City Stadium in Whiting, Indiana. The West All-Stars will consist of the Joliet Generals, Chicago American Giants and the Crestwood Panthers. As for the East All-Stars, it will be the Northwest Indiana Oilmen, Southland Vikings and the Lake County Corn Dogs.