News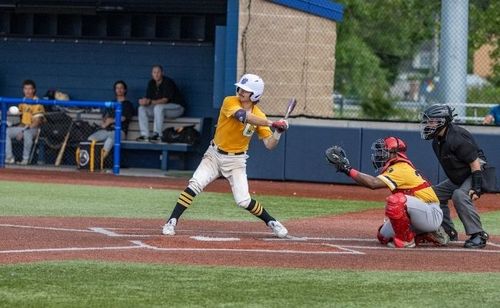 07/05/2022 11:22 PM
-
Crown Point, In. – July 5, 2022 – Sometimes all you need is a spark. After being down 11-3 going into the eighth inning, the Generals hit a leadoff double followed by a homer to ignite a three-run inning. They followed that up with seven runs in the ninth to roar back to take down the Corn Dogs.
They completed the comeback by a score of 13-11 in three hours and 21 minutes including a 15-minute lightning delay.
Baseball is a game of momentum and just as Joliet looked to be dropping another game to Lake County, they flipped the switch in the eighth. However, even after that eighth inning, they were still down five runs.
"The mindset was let's put up a fight," Anthony Stellato said. "Coach Silva said you never know and that anything can happen."
Then the Generals got hits, forced Corn Dogs errors, and kept putting the ball in play. After the Generals pulled within one run they made two quick outs. Then Jorgie Vasquez came through with a single to score the tying run. Next in line was Diego Muñoz who forced another error which gave Joliet two huge insurance runs.
"[Referring to the comeback] It's awesome," Stellato said. "It just shows what a great group of guys we have."
However, before the huge ninth inning, it started with an eighth-inning that scored three runs including a two-run home run by Brennan Fisher. For Fisher, that is his second straight game with a homer.
"Fisher was able to square that ball up pretty good," Manager Joe Silva said. "After that it just came down to putting the ball in play and seeing what happens."
The offense started the comeback, but it was completed by Kai Formella who picked up the win after going three scoreless innings. Formella was able to strike out three and faced the minimum batters of nine.
"Kai did a really good job today and was able to level the storm," Silva said. "He went out there in attack mode and it was really great to see."
"I love watching Kai pitch, when he is out there I know he is going to throw strikes," Stellato said. "We feel confident playing behind him."
After a 7-12 month of June, the Generals picked up a huge first win in July against the Corn Dogs.
"It is a big confidence booster especially after falling to them this year," Stellato said. "We know they are a good ballclub. We know they are hard to beat. We came with the mindset that any team is beatable and we just fought tonight."
The Generals look to build off this win as they take on the Northwest Indiana Oilmen on Wednesday at Oil City Stadium. First pitch is scheduled for 1:10 p.m. and the broadcast will be available on Facebook Live.