News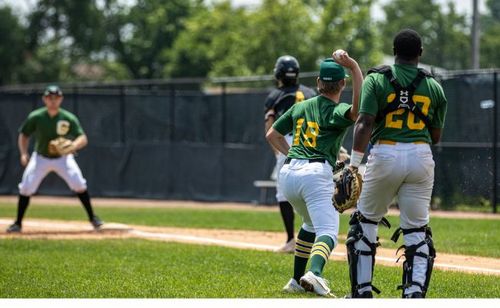 07/20/2022 10:11 PM
-
Hammond, In – July 20, 2022 – Joliet was able to limit the damage early and score often to knock off the Vikings.
They won by a score of 13-5.
The Generals were down early but not for long as they quickly put up a three spot in the third inning. After the Vikings retook the lead, Joliet answered back with a big five-run inning in the fifth. They were able to feed off Southland walks and put the ball in play. Jake Mucha was a huge part today for Joliet having a hit and an RBI and scoring three times. It was also a big day for Jack Dupuis who reached base three times including an RBI.
"I think we were having good approaches and making sure we find our one pitch and put a good swing on it," Dupuis said. "I felt like we had a lot of success today because of that."
A big factor of today's game was the wind that pushed many balls especially early on into the outfield. In fact, two hits just over the infield resulted in doubles.
"We are always just trying to play the wind and it can be hard sometimes because it pushes the ball in different directions," Dupuis said. "I always try to make sure I am ready for anything to happen. I expect the unexpected."
It was also another great day by the pitching staff as Evan Ryan started for Joliet and went four innings allowing just three earned runs. The bullpen was able to do the rest as Jack Bell, Alex Vertuno, and Sava Dupor combined for five innings allowing just one run.
Joliet looks to continue their winning streak as they still have three more games left to go this week.
"The main thing is to stay sharp and have fun playing the game," Manager Joe Silva said.
The Generals look to push the winning streak to four as they take on the Crestwood Panthers at Marian Catholic High School. First pitch is scheduled for 5 p.m. and the broadcast will be available on Facebook Live.