News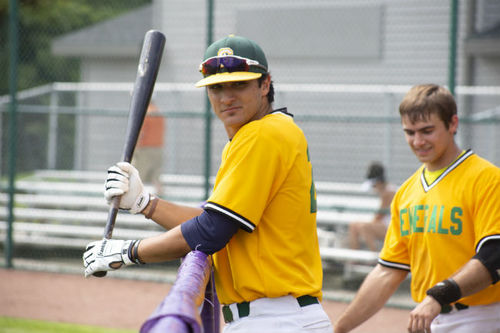 06/27/2018 9:43 PM
-
-By Sam Oppenheim
Today against the first-place DuPage County Hounds, the Joliet Generals always seemed a step behind.
Despite losing by only one run, the Generals were down from the top of the first to the bottom of the ninth.Thanks to runs in the first three innings, the Hounds grabbed a 9-8 victory over Joliet.
Generals starting pitcher Logan DeWulf was knocked out after only two innings of work, in which he gave up four runs, all earned. Joliet manager Joe Hernandez stressed the importance of coming out with a good start.
"We have to start from the first pitch playing a little bit harder," said Hernandez. "We don't wake up until the fifth inning."
The offense was largely stagnant up until the eighth inning, when the Generals scored five runs on three hits and a DuPage error. That made it only a one run game entering the ninth. But Joliet was unable to push any runs across in their final chance at the plate.
A bright spot today was the performance in the middle of the order, with first baseman Brett Stratinsky reaching base four times and third baseman Ranko Stevanovic leading the team with two RBIs."I was trying to see the ball and get the barrel to the ball," said Stevanovic.
But after the game, Stevanovic echoed the importance of not just getting ahead early in the game, but also in each individual at-bat.
"Oftentimes, it seemed like we got behind in the count," said Stevanovic. "We need to get in front early, take some hacks and hit the fastball."
That may be part of the solution Joliet is looking for if they want to get back on track.
The Generals return to action tomorrow against the Southland Vikings in Chicago Heights. First pitch is set for 5pm and the game will be broadcasted on the Generals YouTube channel.