News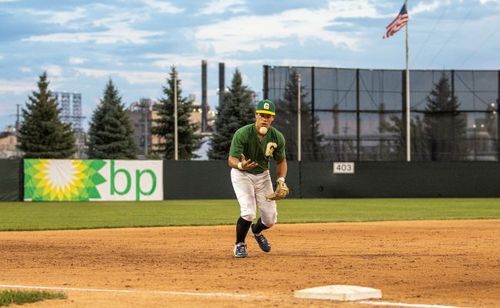 07/23/2022 6:08 PM
-
Chicago, Ill. – July 23, 2022 – After the Generals were down three runs, they scored seven unanswered runs and capped it off with a four-run seventh inning to take down the Giants.
They won by a score of 8-4 in seven innings.
For most of the game, there was still a lot to be decided until the seventh inning rolled around and Joliet was able to pull away. The go-ahead run was scored by Bryce Vincent who was able to take home on a play where the Generals hit into a fielder's choice. For the Giants, they were arguing a call at first and that allowed Vincent to run home.
"The first baseman stretched for the ball really far and I saw him just staying on the ground," Vincent said. "I was creeping to see what he would do and then the whole dugout was just yelling 'Bryce go' so I just took off and hoped for the best."
Even though the Generals had the lead they were able to tack on three more insurance runs. It was the bottom of the order that came through with Jalen Avery and Jorgie Vazquez each getting an RBI hit. They both had two hits on the day along with Aaron Vertuno and those three players combined for six out of the seven total hits for the Generals.
"I just wanted to get on base or put the ball in play to get our guys a bigger lead," Avery said.
It was a strong offensive performance late but it was the pitching staff that held it down throughout the whole game. Alex Vertuno started on the mound for Joliet and allowed just two earned runs with one walk in his three innings of work. Vertuno was followed by Cole Bozzi, David Deimling and Kai Formella who combined for four innings allowing just one hit while striking out eight with zero walks.
"Excellent job from top to bottom," Manager Joe Silva said. "When they got on it was soft contact for the most part so I was really proud of the way our guys competed in the zone all day."
The Generals are back home after seven straight away games, at Lee Pfund Stadium as they take on the Lake County Corn Dogs on Monday in a doubleheader. First pitch is scheduled for 4 p.m. and the broadcast will be available on Facebook Live.