News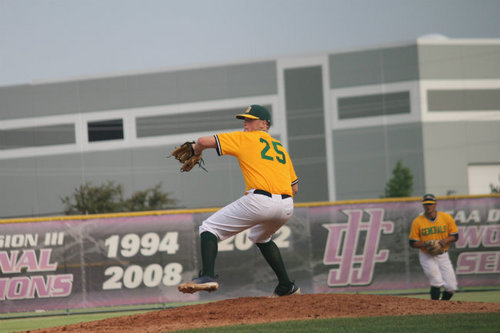 07/03/2018 8:12 PM
-
-By Sam Oppenheim
To say the Joliet Generals have been struggling is an understatement. The Generals had lost six straight and ten of their last 11 games. That all changed Tuesday against the first-place DuPage County Hounds, in a much-needed 11-4 victory.
Early on, things were shaping up to be just another loss for Joliet, as the Hounds scored four runs in the bottom of the second. As the game went on, Generals starting pitcher Carter Lawler would settle down and pick up the win, only giving up those four runs, with just two being earned, in six innings of work.
"That second inning was a little rough," said Lawler. "It was nice to just bounce back, find my breaking ball and work the inner half of the plate."
Joliet manager Joe Hernandez talked about the improvements that Lawler made going into this start.
"Today, he switched up his arm angle, which resulted in more strikeouts and more movement on his pitches," said Hernandez. "He puts his work in when he's not pitching and it shows."
And luckily for Lawler, the offense had his back. Joliet put up runs in the third, fourth, and sixth to tie the game at four all after six innings. The Generals had played in close games over the past two weeks, with almost all ending in defeat.
The seventh inning made sure that did not happen this time. With one out, Brendan Krob hit a solo shot that gave his team the lead, and put the wheels in motion. The next five batters reached base safely before first baseman Brett Stratinsky hit a bases clearing triple to help Joliet run away with the game.
"The bats came alive in that seventh inning," said Hernandez. "That's how this team played earlier in the season and you saw that they could still do that."
For the exclamation point, catcher Jack Kraus hit a solo home run in the ninth, having himself a day with a season-high four RBI's.
"We were struggling before, but now we hope to turn the corner in the second half of the season," said Kraus.
Hernandez echoed that same vibe as the MCL All-Star Game approaches.
With the All-Star break next weekend, we're looking to catch fire right now," said Hernandez. "We need to catch up in the second half to make the playoffs."
The next opportunity for the Generals to catch up is Thursday against the fourth-place Bloomington Bobcats. The game will be played at Wayne King Field and will begin at 5pm. The game will be broadcasted on the Joliet Generals YouTube Channel.