News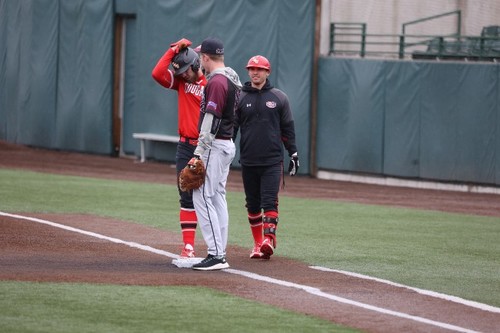 01/10/2023 11:18 AM
-
Griffith, Ind. – Jan. 10, 2023 – In addition to featuring a new home, the recently-relocated Griffith Generals will have a new manager at the helm for the 2023 Northern League campaign.
Peter Romsek has been hired to lead the Generals during their quest for a third consecutive playoff berth and second league title in the last three years. Romsek is in his third season as an assistant coach at Saint Xavier University in Chicago, where he serves as the team's hitting coach, infield coach and recruiting coordinator.
"We are looking forward to welcoming Peter to the Northern League as our new manager of the Griffith Generals," Northern League Commissioner Don Popravak said. "There is significant excitement and buzz around our Generals franchise with the relocation to Griffith, and we believe Peter is the right coach to help the team build upon the on-field successes that have taken place over the last two seasons."
Before arriving at Saint Xavier, Romsek was on staff at Salem University (W.V.), where he received his MBA in sports and recreation management. He has previous summer managerial experience as he served as the head coach of the Lansing Locos in the Lemonade Collegiate League in 2020 and was an assistant coach at Olivet College (Mich.) in 2019.
"I am very excited about the opportunity to run a team and continue to coach throughout the summer," Romsek said. "We've had many of our Saint Xavier players compete in the league before, and I know they've always had good experiences while playing with and against high-level competition."
Romsek coached under head coach Addison Rouse at Salem, and when Rouse was named the head coach at Saint Xavier, he brought Romsek with him.
"Addison has been a mentor for me; I've been coaching college baseball for five years, and I've been with him for four of them at two different programs in two different states," Romsek said. "He's a guy who had a huge influence on me and showed me the ropes of college coaching and what it takes to be successful. I also learned a lot from my college coach, Craig Rainey at Adrian College, who has been there a long time and built a successful program."
Romsek's previous baseball experience also includes a stint as the head baseball coach for the Capital City Kings, a premier high school travel organization based out of Lansing, Mich. He coached that team for four years and helped over 40 players move on to the collegiate level. He was also a private instructor and the head of infield development at Capital City Baseball Kingdom from 2015-2019 and trained hundreds of athletes on hitting, infield, strength & conditioning, speed and agility.
During his playing days at Adrian, Romsek was a middle infielder for the Bulldogs and won the conference championship every year in the program. He earned his bachelor's degree in business administration with a focus in entrepreneurial studies from Adrian in 2018.
"As a younger coach, I'm very relationship driven and have the ability to connect with players quite well," Romsek said. "There's still not a huge age gap from me to the players, and I'm a relationship-driven guy. I certainly like to have fun, but at the same time really compete. The summer is a little more laid back than the college season, and it's a great opportunity to play a little bit looser and continue to develop while still competing at a very high level."
The process of putting together the 2023 Griffith Generals roster is well underway.
"Right now, our roster is a nice blend," he said. "We have players from every single level. It's also a unique blend of young and old, so our team is very wide-ranging. I'm looking for guys who want to come out and compete while continuing to develop. That's my highest priority in recruiting the team."