News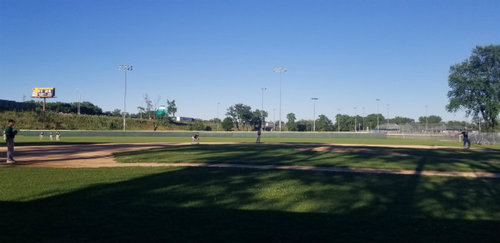 07/07/2018 10:33 AM
-
-By Sam Oppenheim
Catch up is not a fun game to play. Yesterday, the Generals jumped ahead early, scoring five runs in the top of the first to set the tone in a 16-2 blowout victory over the Crestwood Panthers.
In that first inning, the first seven batters for Joliet reached base. By the end of the inning, the Generals had batted around and put themselves comfortably out in front.
In the bottom of the first, Tom Przekwas made his first appearance for Joliet, getting the start against the Panthers. He was a little shaky during his first inning of work, giving up two runs, but settled down and shut out Crestwood during his four other innings on the mound.
"[Przekwas] was a little bit nervous in the first inning, but settled down and mowed them down," said Joliet manager Joe Hernandez.
Brett Stratinsky and Ranko Stevanovic, who batted fourth and fifth respectively, proved to be a dangerous combo tonight. The duo had four RBIs apiece, but did so in different ways.
Stratinsky had two towering home runs to left field. On the first one, Stratinsky went nine pitches into the at-bat before his two-run home run. His second home run came in the ninth, but was on the first pitch.
"I just waited for the right pitch and put the barrel on the ball," said Stratinsky.
Stevanovic had a different means of getting to his four RBI total, earning himself four hits on the night.
"I wasn't trying to do much, I just wanted to see the ball deep and put it in play," said Stevanovic.
A complete performance in on the mound, in the field and at the plarte left Hernandez with this takeaway.
"This what we can we do if we believe in ourselves and play ball from the first pitch," said Hernandez.
The Generals return to action tonight against the Northwest Indiana Oilmen. First pitch is set for 6:10 in Whiting and the game will be broadcasted on the Generals YouTube channel.