News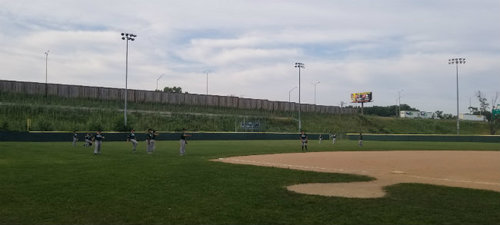 07/13/2018 1:41 PM
-
-By Sam Oppenheim
Last Friday, the Joliet Generals crushed the Crestwood Panthers 16-2 in an absolute drubbing. Yesterday night was a different kind of ballgame. Despite pushing across only five runs, the Generals held on to defeat the Panthers by a score of 5-3.
Logan DeWulf made his last start of the season for Joliet and faced a worthy opponent on the mound in Crestwood pitcher Chris Torres. Both starters went seven innings and reached triple-digit pitch counts.
Both squads failed to take advantage of opportunities early, as the game entered the seventh even at two.
In his last inning on the mound, DeWulf gave up a two-out double to Panthers outfielder Reggie Brock. In jeopardy of giving up the go-ahead run, the right-hander buckled down against Chris Harrigan.
"I had struck him out twice already on a lot of fastballs," said DeWulf. "He was sitting fastball in that final at-bat and I hung a 3-2 curveball and he swung early on it."
That strikeout sent the game into the eighth still tied at two apiece. That's when Brett Stratinsky came alive. The first basemen hit two home runs and had four RBIs in the last Generals-Panthers contest.
With the bases loaded and one out, Stratinsky doubled to right field, knocking in three runs to take the lead. The Middle Tennessee State product finished with four RBIs against the Panthers once again last night.
"He learns every time he goes up to bat," said Generals manager Joe Hernandez. "They started him off with breaking ball and fought some off, and then got the fastball and turned on it."
Those five runs were enough to push the Generals to victory, as Alex Herbst got Crestwood's Evan Bell looking at strike three to strand the bases loaded to end the game. Herbst picked up his first save of the season while DeWulf grabbed more than just a win.
"It was an emotional night on the mound because some of these guys I created really good friendships with," said DeWulf.
The team chemistry seems to have rebounded as Joliet has now won six of their last seven games. Before that, they had lost ten of 11. Despite the current hot stretch, Hernandez realizes his guys need to get ready for the home stretch of the regular season.
"I told everybody to get some rest," said Hernandez. "When we come back rested on Tuesday, we can play with anybody."
Tuesday's contest will be against the fourth-place Bloomington Bobcats. A win would move the Generals ahead of the Bobcats and into that fourth and final playoff spot. First pitch is set for 5pm at Wayne King Field and the game will be broadcasted on the Joliet Generals YouTube channel.