News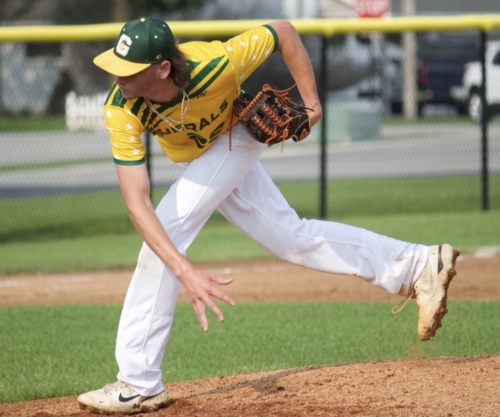 07/15/2023 10:35 PM
-
GRIFFITH, Ind. – The Griffith Generals had a scrappy performance in their doubleheader against the Indiana Panthers, as they nearly won both games. The Generals were victorious in game one, winning 6-3, but fell 9-8 in an eight-inning game two, just short of a comeback win.
Ryan Polly got the start in game one for the Generals, as he pitched an impressive six innings of two-run ball in his winning effort. Polly said he "didn't feel great before the game, but once I got on the mound I felt pretty good. Haven't had a start in a couple years, been out of the pen for a while, but felt good to get a quality start."
Coach Peter Romsek was pleased about the Griffith win in game one, calling it "just a good baseball game. Jumped out to an early lead and took advantage of free passes. Polly was outstanding. Great job by [Josh] Warn to do the job and shut the door."
The win marked three in a row for the Generals, tying their longest win streak of the season. It was also their first win against a team other than the Oilmen since June 28. Aaron Orzech went 1-2 with a sacrifice fly and two RBI, leading the Generals offensively.
Game two started sour for the Generals, as Caleb Deel was tasked to "open" the game. In one inning of work, Deel gave up four hits and three runs, all scoring on a George Vilecki home run. The Panthers would eventually get up to a 7-1 lead.
However, the Generals wouldn't go down quietly as they closed in to a 7-4 deficit by the seventh inning. The Generals would take advantage of defensive mistakes, string together line-drive hits, and eventually walk in the tying run to force an extra eighth inning.
Dylan Mayer held the line on the mound in the seventh but loaded the bases in the eighth without recording an out. Josh Warn tried to clean up the mess, but two runs scored thanks to a throwing error and a sacrifice fly, making it a 9-7 Panthers advantage. The Generals managed to score a run in the eighth but left the tying run in scoring position, lining out to end the 9-8 game.
Romsek was pleased on "another good ball game" from his team. "Got off to a slow start, but good to come all the way back and push them to extras. They outlasted us in the end. Although it's a loss at the end of the day, I love where this team is at." After todays action, the Generals are 4-3 in their last seven games.
Griffith will face the Northwest Indiana Oilmen at 4:10 p.m. tomorrow to wrap action before the All-Star Break. They will look to knock off the Oilmen for the fifth game in a row.