News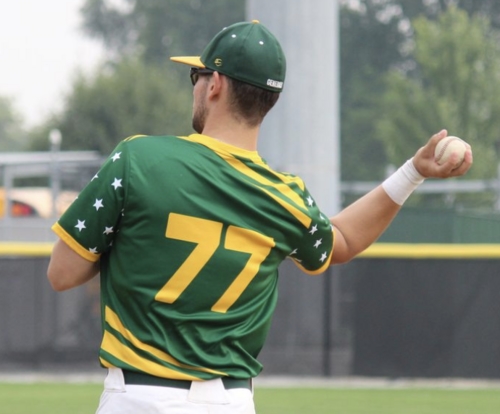 07/16/2023 8:22 PM
-
GRIFFITH, Ind. – The Griffith Generals couldn't increase their head-to-head winning streak against the Northwest Indiana Oilmen, losing an entertaining 6-4 game. The game saw four lead changes, including two in the last two innings. Ultimately, the Generals ran out of pitching and couldn't hold on to a 4-3 lead in the ninth. The Oilmen put up a three-spot on Mark Ross to win the game.
Osvaldo Ballesteros had his best start of the season as he struck out Oilmen left and right. He pitched five innings of one-run ball, striking out nine batters of the fifteen he retired. Ballesteros only had 13 punchouts in 33.2 innings coming into today.
Nick Fies continued his hot hitting against the Oilmen, as he went 2-4 with a double and three RBI. Fies credited his recent uptick in production to extra work with head coach Peter Romsek: "I've been working with Pete a lot before the games. He's helped me a ton with my swing."
Romsek was happy with Griffith's effort today: "I thought Fies had a really good game, another big game from Ozzie. We ran out of pitching again. Other than that, good day. I'm pleased with the way we're playing; we're taking form. Good chance to reset for the home stretch."
The Griffith Generals enter the All-Star Break with a last-place 12-26 record. However, they have played their best baseball of the season in the last week. Despite a couple of heartbreaking losses, they are playing competitive baseball. The starting pitching has come to form, and runners in scoring position have made it across the plate at a higher rate. With 13 scheduled games left, Griffith sits 4.5 games back from a playoff spot. All it takes is a run, and the Generals can stun the Northern League and sneak into the postseason.
The Generals will resume play on Thursday against the Elkhart County Miracle. Until then, the Northern League will pause for the All-Star Game on Tuesday at 7:10 p.m. at Oil City Stadium. Nic Altobelli, Max Waszkiewicz, Aaron Orzech, and Josh Ortiz will represent the Generals in the exhibition event.