News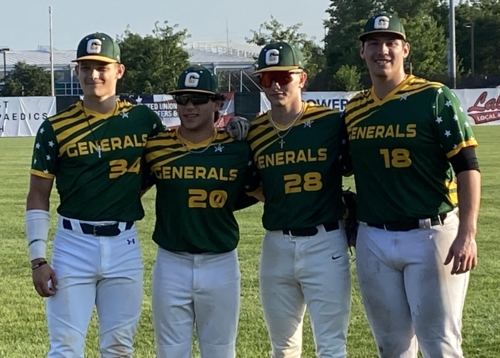 07/18/2023 9:30 PM
-
GRIFFITH, Ind. – The quartet of Josh Ortiz, Nic Altobelli, Aaron Orzech, and Max Waszkiewicz were selected to represent the Griffith Generals at the Northern League All-Star Game. Before the game, they were asked what the All-Star selection meant to them.
"Being selected means my hard work has been paying off," said pitcher Josh Ortiz. "I didn't get a chance to play in the spring, so I was itching to get back on the field and get after it. When I got the chance to throw, I made sure it counted, and I guess people took notice." The Purdue University Northwest product pitched 32.1 innings, striking out 30 batters and posting a sub-four ERA at 3.90.
Nic Atobelli's playing time springboarded with the injury to star outfielder Billy Jones. The Saint Xavier University commit played perfect defense and had an offensive slash line of .276/.413/.398, driving in 15 runs in 27 games. "I'm just excited to be here," said Altobelli on his opportunity. "Looking forward to having a good time surrounded by a lot of good baseball players."
The beating heart of the Generals, Aaron Orzech, has always loved competition. Today, he referenced the cool feeling of "getting to compete with these guys around neighboring states." The Chicagoland Collegiate Athletic Conference Freshman of the Year put up a Generals-best .323 average and 17 RBI.
The All-Star selection gratified the Saint Xavier speedster Max Waszkiewicz: "It means a lot because we've been playing hard all summer. Feels good to be rewarded after a lot of hours this summer. It's working out, I'd say." Waszkiewicz swiped 14 bases in 26 games, the fifth most in the Northern League.
The Generals will look to make a playoff push when regular season play resumes on Thursday. The Elkhart County Miracle will come to town for a two-game set. Both games start at 7:10 p.m.