News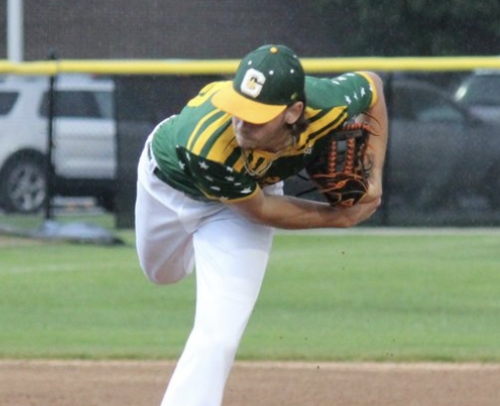 07/22/2023 9:36 PM
-
GRIFFITH, Ind. – The Generals squandered a golden opportunity to grab a win against the first-place Lake County Corn Dogs, as they blew a 5-0 lead in an 8-7 loss. The Generals only scored runs in two innings tonight, making for a "stagnant" overall performance in the words of interim manager Ryan Jemar.
"We were patient in the second inning, but we couldn't score until the ninth," stated Jemar after the loss. "Classic Generals game, making it interesting in the ninth, but offense was too stagnant." Several Generals runs also scored due to three Corn Dog errors.
Ryan Polly had a quality start for the hometown Generals, as he pitched six innings of two-run ball. He had a 5-2 lead when he exited the game, which was immediately squandered by the Griffith bullpen. Dylan Mayer walked all three batters he faced in the seventh, failing to record an out. Kevin Schroer came in to face Tyler Schultz and surrendered a grand slam over the left-field fence to give the Corn Dogs a 6-5 lead. The Generals would rally in the ninth but would ultimately fall short.
This loss stings a bit extra for the Generals, as they were on a roll coming out of the All-Star Break. Not only did this snap a back-to-back stretch of wins, it was the first loss for Ryan Jemar in his interim manager role. He is now 3-1 as the substitute skipper. This also marks the eighth loss the Generals have suffered at the hands of Lake County without a win.
The last two matchups between these teams have resulted in squandered late-inning leads from the Generals. On July 9, the Generals had the winning out hanging in the air but dropped it to allow the Corn Dogs to rally and win in extra innings. Tonight, the Generals bullpen quickly undid the work of another quality start and allowed key insurance runs that ultimately sealed the game.
Griffith will look to bounce back in their push for a playoff spot when the Elkhart County Miracle return to Brian Jennings Field tomorrow afternoon. The Generals will look to beat the Miracle for the third time this week, with first pitch being at 4:10 p.m.