News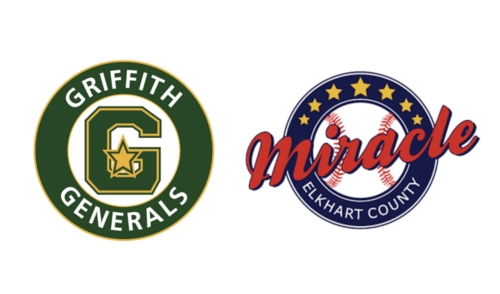 07/23/2023 6:35 PM
-
GRIFFITH, Ind. – The Elkhart County Miracle were disadvantaged long before they arrived at Brian Jennings Field. They only had ten players to work with, and they arrived 31 minutes before first pitch due to transportation issues. The late arrival resulted in sloppy Miracle defense, totaling three errors. The Generals took advantage of their opportunities, winning 8-3.
Osvaldo Ballesteros continued his strong stretch of pitching for Griffith with a quality start. He gave up seven hits in six innings of work but only issued one walk with five strikeouts. The Generals led 4-2 when he exited the game.
"Honestly, I just fill up the zone," said Ballesteros on his approach to the outing. "I feel like me and [Conor Gausselin] both did that. I just try to fill it up, make the guys swing. Even though they got seven hits off me, it shows I was in the zone. I just tried to get weak contact."
Aaron Orzech delivered the big blow in the eighth inning when he sent a towering three-run homer over the left-field fence to put the Generals up by five. Rodney Lester then came in and pitched three innings of one-run ball, collecting the save and giving the Generals a 3-1 record on their homestand out of the All-Star Break.
Ryan Jemar improves to 4-1 as the Generals interim manager. He credited Ballesteros and Lester first, saying they "Pitched really well. Gave ourselves a chance. Took our walks when we needed to. Aaron with the big knock at the end was really big for us.
Griffith now sits 2.5 games back of the Miracle in the final playoff spot with nine scheduled games left. The Generals will rest tomorrow before taking on the Lake County Corn Dogs in Crown Point on Tuesday at 7 p.m.