News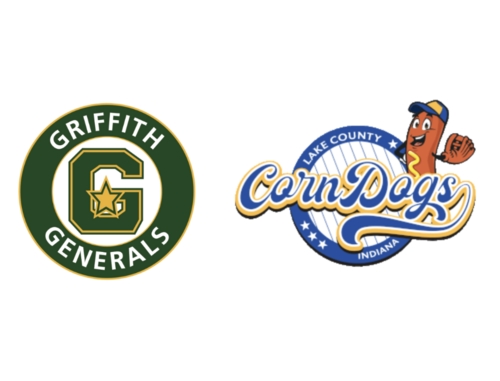 07/25/2023 10:31 PM
-
CROWN POINT, Ind. – The Griffith Generals faced the Lake County Corn Dogs nine times this season. All nine times, Griffith fell short. Tonight, the Generals blew their short-lived lead in the eighth inning by allowing a whopping seven runs from three different pitchers, ultimately losing 12-6.
Errors bit the Generals again, as they had three, resulting in five unearned runs for the Corn Dogs. The deciding misplay came when Dylan Mayer sailed a throw into left field, allowing the tying and go-ahead Corn Dog runs to score. It took the combination of Josh Warn, Jimmy Fairley, and Caleb Deel to get out of the inning. By the time the dust settled, Lake County scored seven runs on three hits, two walks, two wild pitches, two hit-by-pitches, and the error.
Interim manager Ryan Jemar appeared solemn in his postgame interview but was optimistic for the stretch ahead. He said the "big part of today was pitching and defense. Struggled on that side of the ball. [We'll] bounce back tomorrow, figure it out. I'm not worried."
The loss tonight was Griffith's third instance in a row where they blew a late lead to the Corn Dogs. Barring any unforeseen matchups in the next three weeks, two calendar years will pass since the Generals have taken down Lake County. The Corn Dogs have won every matchup against Griffith since last season's semifinal playoff game.
Tomorrow starts a crucial two-game stretch for the Generals against the Indiana Panthers. Griffith will travel to Highland High School for the first time this season in their effort to gain ground in the playoff race. After action tonight, the Generals sit four games back of the Panthers in the final playoff spot. A series sweep could put the Generals within two games of a playoff berth with six games left.
Game one of the series starts tomorrow at 7 p.m.