News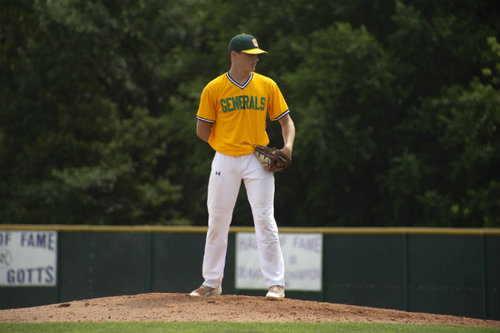 07/18/2018 10:54 PM
-
-By Sam Oppenheim
Entering today's game, the Joliet Generals had won five of the six head-to-head meetings this season against the last-place Crestwood Panthers. That history proved to be meaningless, as the Generals offense fell flat in a 4-2 loss at the hands of the Panthers.
After yesterday's 13-0 devastating loss to Bloomington, a game that was called after seven innings, Joliet needed a bounce back against a 5-26 Crestwood squad.
Both teams had chances to score early, but starter pitchers Jordan Baker and Jackson Shepard, for the Generals and Panthers respectively, held the offenses in check.
In the fourth, Joliet finally broke through on the scoreboard. A sacrifice fly by Harrison Hayes brought in Thomas Larson for the first run of the ballgame. Then with runners on the corners, Jimmy Day took off for second base. Day slides in safely as the throw from Brian Vance went into centerfield, bringing in Ranko Stevanovic from third. Unfortunately, that was all the runs that the Generals were able to manufacture.
For Crestwood, Shepard far exceeded expectations in his first start of the season. Previously, his season-high for innings was six in relief against the Oilmen. Today, Shepard threw eight strong innings on just 103 pitchers, giving up one earned run and striking out five. Joliet manager Joe Hernandez knows his team could have done a better job at the plate against Shepard.
"We had terrible approaches," said Hernandez. "We have guys that are swinging for the fences every single time and they are failing at it."
In the sixth, Shepard finally got the run support he needed. Baker was knocked out after 5 ⅔ innings, having already surrendered one run. In relief, Alex Herbst came in to a bases loaded situation needing just one more out. Brian Vance, the first batter Herbst faced, hit a ball that bounced off the glove of Stevanovic scoring two runs to put the Panthers ahead. Then, Maury Garrett added an RBI single of his own to make it 4-2.
That score stayed the same the rest of the way as both teams scored in only one inning. Offensively, the Generals were unable to get the offense to click for the second straight game.
"We needed to win yesterday and today and we lost both of those home games," said Hernandez.
Going forward, Joliet has an off day tomorrow before games against the Hounds and Vikings before Sunday. With the playoffs beginning July 31st, Hernandez knows his squad needs to stick to the basics if they want to make the postseason.
"We have to hit the baseball and have better at-bats, pitchers have to throw strikes and our defense has to make plays," said Hernandez.
The Generals next matchup is on Friday at DuPage. First pitch is set for 5pm at Lemont Sports Complex and the game will be broadcasted on the Joliet Generals YouTube channel.