News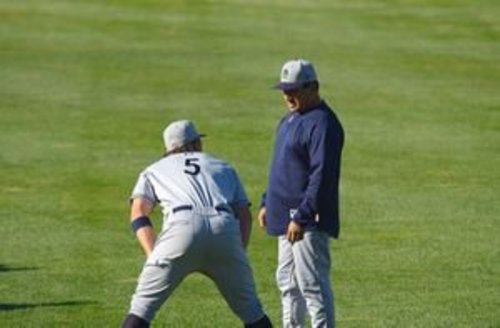 05/24/2018 6:23 PM
-
The love of the game has inspired Joe Hernandez every step of the way throughout his nearly 40 years in baseball, and it's that passion that has led the seasoned veteran back to the dugout, where he'll serve as the manager of the Joliet Baseball Club during the 2018 season.
Hernandez brings a wealth of experience with him to a Joliet. He's been involved with baseball in nearly every capacity imaginable and on just about every level. He has spent the last 12 years running his own baseball training business – Total Pro Baseball Lessons.
"I get the chance to train and work with players on a daily basis, and my love and passion for the game has led me back to the baseball field as a manager," Hernandez said. "I want to make a positive impact on these players' lives. At this point in my baseball life, I'm well-suited to do that, and that's why I decided to take the job with Joliet."
Hernandez has deep professional baseball ties – he was a scout for the Montreal Expos in the late 1990s, served as a spring training coach for the Tampa Bay Rays in 2003 and has worked with the Colorado Rockies as an amateur adviser since 2015. He has held camps and clinics with Major League Baseball in the Midwest for the last 15 years.
"I plan to use all my experience to help a very talented group reach the next level in their baseball lives," Hernandez said. "That's what is most important to me. I can't wait to get back out there on a baseball field again and do what I love. I want to make it as enjoyable as I can for the players and make it the best experience they can possibly have."
Hernandez played prep baseball at Lane Tech High School in Illinois, then went on to enjoy a collegiate career as a third baseman and catcher at Northeastern University. He played summer ball in the Skyline League, which at the time was the place to be for high-level players.
While playing summer ball, Hernandez was recognized by the Astros and White Sox, and the White Sox brought him in for a tryout before ultimately passing. However, a Cubs scout also attended the tryout and made Hernandez his first professional offer. He played in the Cubs organization in 1983 before suffering two broken ankles within an 18-month span, a significant setback for his playing career.
Hernandez returned in 1988, playing seven years in the Yankees organization before a stint with the Marlins Triple-A affiliate in 1995 and two seasons in the independent Northern League in 1996 and 1997.
"It was tough after those injuries since I had two broken ankles and rehabbed them and my primary position was catcher," he said. "I loved the game, so I stayed with it as long as possible. I eventually took a full-time job working for the State of Illinois, but I always stayed active in the baseball world."
For the last dozen years, Hernandez has been able to immerse himself in the game he loves 24/7, training players from park district up to the major leagues. He lives in Bolingbrook with his wife and has four children.
When he runs out to exchange lineup cards prior to the 2018 Joliet season opener, Hernandez will be as enthusiastic as ever as he begins yet another chapter of his long and noteworthy baseball journey. And if his frequent mentions of his passion for the game are any indication, he'll be loving every minute of it.