News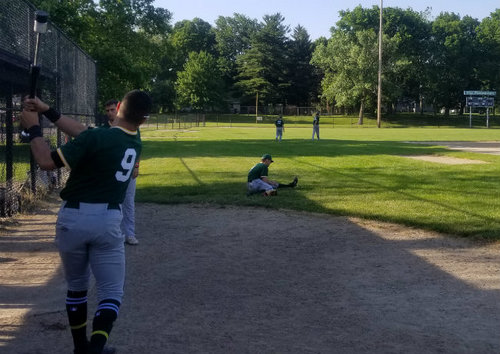 06/08/2019 10:55 AM
-
-By Sam Oppenheim
After walking-off the Panthers on Monday night, the Generals had a taste of their own medicine last night. Joliet fell to Bloomington 7-6 on a walk-off single by Peyton Dillingham. Coincidentally, it was the same score of the Generals contest with Crestwood.
At O'Neil Park last night, it was a back and forth affair. Bloomington jumped out to a 3-0 lead after the first inning, but Joliet responded in the middle innings. The Generals scored two runs in the third, fifth and sixth innings to take a commanding 6-3 lead into the bottom of the sixth. First baseman Will Krushena (Denison / Bloomfield Hills, Mich.) had three RBIs after a pair of singles in the fifth and sixth.
"I've been preaching about manufacturing runs and I thought we did a good job there," Joliet manager Matt Vitulli said.
However, the three-run lead was short-lived. Generals pitcher Ethan Petric (Joliet JC / Elwood, Ill.) gave up two runs, only one of which was earned, in the bottom of the sixth. Besides that half inning, Petric had a superb relief outing. The 6'8" right hander threw 95 pitches in 5 ⅓ innings. It was a far cry from his first appearance of the season. He gave up nine runs in the opening day loss to the Hounds.
Petric's college teammate Clint Underwood (Joliet JC / Orland Park, Ill.) took over from there. Underwood gave up a run in the eighth. In the last inning, the bases were loaded after two walks and a hit by a pitch. With one out, Dillingham drove in Bobcats third baseman Cole Jones to end the game.
Joliet moves to 2-2 on the season after the loss. Along with the Vikings, the Generals have played the fewest games in the Midwest Collegiate League. With a jam-packed schedule in June and July, Vitulli knows Joliet needs to bring it every single game.
"We're just looking for consistency," Vitulli said. "With all these rainouts, it's nice to have some time off to rest some arms, especially for guys that haven't been throwing."
For the second straight weekend, the Generals have Saturday and Sunday off. On Monday, they'll travel to Midlothian to play the Panthers at 5 p.m. The game is at Howie Minas Field and will be broadcasted on the Crestwood Panthers Facebook Page.