News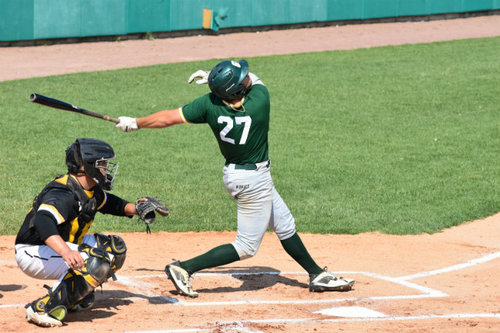 06/13/2019 10:37 PM
-
-By Sam Oppenheim
Joliet, Ill. - June 13, 2019 - After three innings, the Joliet Generals were on top of the Southland Vikings 3-0. Three innings later, the Generals found themselves down 7-4.
The Vikings offense proved to be too much, scoring in every inning from the fourth to eighth, and defeating Joliet 11-6.
The Generals did start strong, taking the lead in the second inning. With a 1-1 count, outfielder Bryant Diel (Triton College, South Elgin, Ill.) launched a two-run homer.
"I was looking for the heater and whiffed and didn't change my approach," Diel said. "He gave me a fake shake and I knew the fastball was coming again."
Diel went 4-4 on the night, finishing a triple short of the cycle. For him, it was about focusing on the right pitch to hit.
"It was my pitch selection and being mentally strong in the box that helped me out today," Diel said. "Luckily, I was able to find the pitches I can hit hard today."
Early on, it was not only the offense looking strong. Right hander Danny Wizceb (Triton College / Vernon Hills, Ill.) went 1-2-3 in the first three innings. However, things began to unravel from there.
Southland scored two runs in the top half of the fourth to cut the Generals lead to 3-2. Chris Broccolino (Robert Morris - Illinois / Schaumburg, Ill.) responded with a solo shot in the bottom of the frame. However, the Vikings began to take control. Southland scored three in the fifth to take a 5-4 lead. Wizceb was knocked out in the sixth after giving up seven runs.
Overall, the Vikings scoring runs across five innings proved costly. The 11 runs were too much for Joliet to keep up with. Southland held on for a 11-6 victory.
"[The Vikings] did a very good job adapting to us and our approaches," Generals manager Matt Vitulli said. "On the other side, we really didn't do a job at that."
With the loss, Joliet falls to 2-3 on the season. Their next contest is on Saturday versus the Crestwood Panthers. First pitch is at 1 p.m. from Wayne King Field and will be broadcasted on the Joliet Generals Broadcasting Network.