News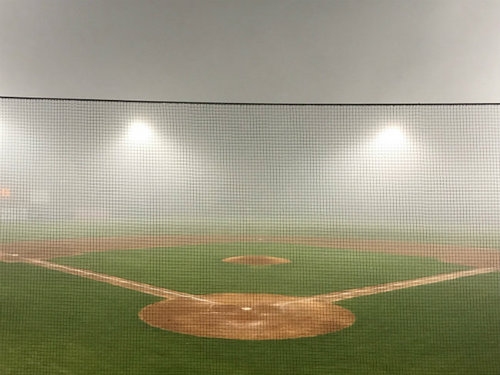 06/16/2019 8:57 PM
-
-By Sam Oppenheim
Whiting, Ind. - June 16, 2019 - The weather continues to be an impediment on the Generals 2019 campaign.
This afternoon, Joliet's contest against the Northwest Indiana Oilmen at Oil City Stadium ended after five innings due to heavy fog. The game does go into the book as complete, with the Oilmen winning 6-3.
It was a difficult start for Generals right hander Jordan Baker (McKendree University / South Holland, Ill.), who made his second outing of the season. Baker allowed runs in each of the first three innings, thanks in part to two NWI homers.
Oilmen third baseman Jackson Dvorak provided a large portion of the offense. Dvorak had an RBI single in the first and a three-run home run in the third.
On the offensive side, Joliet pushed two runs across in the top half of that very inning. Connor Olson (Illinois Wesleyan / Wheaton, Ill.) tripled to score Ben Jung (UW-Oshkosh / Downers Grove, Ill.). Olson subsequently scored on a sacrifice fly courtesy of Danny Borgstrom (University of Evansville / Morris, Ill.).
In the fifth, Olson notched his second RBI of the game, this time with a shallow single to centerfield. Jung scored on the play for his second run of the game.
But once again, the weather did not cooperate. Heavy fog in the outfield was ruled unsafe by the home plate umpire. Since the home team led and the visiting team batted in the fifth, the game was official.
All in all, Generals manager Matt Vitulli thought his team performed well under the circumstances.
"I thought it was a good effort, especially after a few days off," Vitulli said.
Even with today's game, Joliet has played just six times. With a loaded schedule in the weeks ahead, Vitulli wants one big thing for his squad.
"Consistency from the bats and pitching, and we need to field the baseball," Vitulli said.
The Generals start a streak of seven games in six days beginning on Tuesday. Up first are the DuPage County Hounds on Tuesday night. First pitch is at 5 p.m. from Wayne King Field in Joliet. The game will be broadcasted on the Joliet Generals Broadcasting Network.