News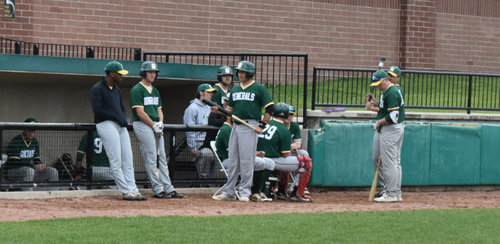 06/19/2019 9:04 PM
-
-By Sam Oppenheim
Joliet, Ill. - June 19, 2019 - After the Generals lost on opening day 24-1 to the DuPage County Hounds, Joliet right hander Jake Ostrowski (Joliet JC / Lockport, Ill.) knew just how dangerous the Hounds could be.
This afternoon, Ostrowski handled the Hounds lineup with poise and command, surrendering just one run in a full nine innings of work, and giving Joliet a 6-1 victory over DuPage. The second game went the way of the Hounds, who won 7-3 in six innings before rain ended the contest.
Ostrowski's method of facing the daunting Hounds lineup was fairly simple.
"Throwing strikes was really my main approach," Ostrowski said. "If they hit it, we've got a good defense, if not, I'll strike them out."
Rarely did DuPage find success at the plate. Ostrowski allowed only five hits and struck out seven. It took only 107 pitches for him to complete the game.
"He's a gamer," Generals manager Matt Vitulli said. "He definitely looked at me and said he wanted to finish the game."
Offensively, Joliet scored six runs on nine hits. They were the benefactors of five wild pitches by Hounds starter Jason Jennerjohn. Devin Buckner (Morehead State / Lexington, Ky.) had a double and two sacrifice flies.
Game two was a different story for the Generals. In the bottom of the first, Joliet had the bases loaded with just one out. Hounds pitcher Malik Binns then struck out Will Krushena (Denison University / Bloomfield Hills, Mich.) and Connor Pasko (Triton College / Willow Springs, Ill.) to end the inning.
DuPage jumped out to a 3-0 lead after the top of the fourth. Although, the Generals responded with small ball. Joliet had three RBI singles in the bottom of the inning, courtesy of Krushena, Jon Oldman (Aurora University / Dixon, Ill.) and Connor Olson (Illinois Wesleyan / Wheaton, Ill.).
The Hounds ended up being too much, as DuPage broke the tie, scoring four runs in the fifth to put the game away. Steady rain continued to fall, and the game was called after the sixth.
If the weather permits, the two games today are the start of seven contests in five days. Joliet has played eight games, which is still three games less than any other team. Vitulli thinks it's a great opportunity to bring this team together.
"Getting that team chemistry up as a group," Vitulli said. "With all these consecutive games, we'll have a good feel for who we are as a team."
The Generals are scheduled to play tomorrow at the Southland Vikings. The Vikings were rained out tonight. Weather-permitting, Joliet travels to Hap Bruno Field to take on Southland at 5 p.m. The game will be broadcasted on the Southland Vikings Broadcasting Network.