News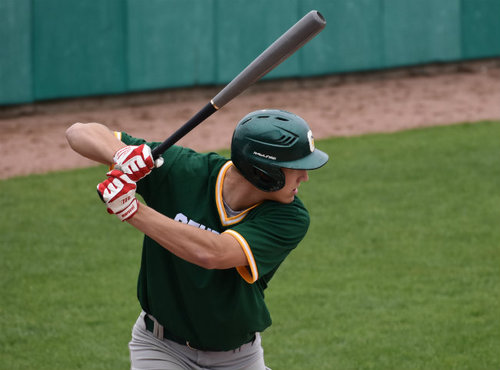 06/27/2019 9:19 PM
-
-By Sam Oppenheim
Joliet, Ill - June 27, 2019 - After beating the Southland Vikings 15-14 in ten innings on Tuesday, Joliet Generals manager Matt Vitulli said pitching and defense were the areas that needed the most improvement.
Tonight, poor command and fielding mishaps haunted the Generals, as ten total free passes and three errors helped the Vikings defeat the Generals 13-5 in eight innings, as storms ended the game early.
The loss comes after back-to-back wins for Joliet, who stand at 5-7 on the season.
Early on, Southland jumped on Generals starter Ethan Petric (Joliet JC / Elwood, Ill.) with the first four batters of the game reaching base. Vikings second basemen Kellen Quigley knocked in the first run of the game. Afterwards, Southland added another run in the top of the first.
Joliet managed to get a run back in the bottom of the frame, after a Danny Borgstrom (University of Evansville / Morris, Ill.) RBI single. Both teams stayed quiet in the second but were not kept off the scoreboard in the third.
It was Quigley who struck again for the Vikings. His homer to the short porch in right field, roughly 275 feet, stretched Southland's lead to 4-1. However, the Generals answered in the bottom half. After the first two batters of the inning got on base, Chris Broccolino (Robert Morris - Illinois / Schaumburg ) brought them both in with a double to the fence. Devin Buckner (Morehead State / Lexington, Ky.) then nabbed a double of his own to score Broccolino. Broccolino finished 2-3 with a pair of doubles and Buckner went 2-3. Both players were also hit by a pitch.
After a scoreless fourth, both teams again found success in an odd-numbered inning. The Vikings scored three in the fifth, thanks to a leadoff walk, passed ball and an error. Southland registered just one hit in the inning. Meanwhile, a sacrifice fly from Will Krushena (Denison University / Bloomfield Hills, Mich.) scored Broccolino to cut the lead to 7-5.
However, things unraveled from there. A sloppy sixth inning allowed the Vikings to put a crooked number six on the board. Southland batted around, despite having only a single to the offense's credit. Five walks and two batters hit by a pitch, along with an error, helped the Vikings expand their advantage.
The strong eight run lead for Southland held, as the game was called in the top of the eighth after storms sirens went off.
The Generals look to bounce back tomorrow night, as Joliet takes on the Bloomington Bobcats. First pitch is at 6:15 p.m. at O'Neil Park in Bloomington. The game is the fourth contest in a stretch of seven games in six days.