News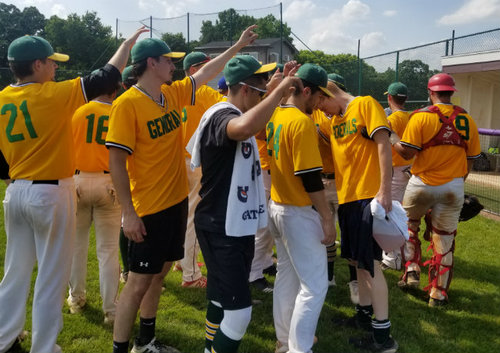 06/29/2019 5:48 PM
-
-By Sam Oppenheim
Joliet, Ill. - June 29, 2019 - Anytime you can score ten or more runs, you have a good chance to win. For the third time in the past four games, the Joliet Generals did just that.
The Generals defeated the Crestwood Panthers 16-6 this afternoon, thanks to a strong batting performance from the top of the lineup.
The first three hitters were unstoppable for Joliet. Leading off, Nick McAlister (Southern Illinois / Homewood, Ill.) finished 3-5 with a pair of doubles and a triple. The two hitter, Chris Broccolino (Robert Morris - Illinois / Schaumburg, Ill.), had three singles. And then in the three spot, Danny Borgstrom (University of Evansville / Morris, Ill.) was only a single shy of the cycle.
What makes this more incredible was Borgstrom's double in the eighth was the only hit recorded by these three after the third inning.
"We've been coming up in big situations, getting big hits and not just singles, but extra base hits," Generals manager Matt Vitulli said.
In total, the Joliet offense tagged Panthers starter Ethen Otstott for 11 earned runs in 2 ⅔ innings. In each of the first four innings, the Generals scored two or more runs. Vitulli says their ability to score early and often over the past couple games has been very important.
"It's easier to go through a game, especially pitch a ball game, when you go out there with a lead," Vitulli said.
Outside of the top three, Will Krushena (Denison University / Bloomfield Hills, Mich.) launched a three-run homer in the eighth. He finished with three hits on the day.
On the mound, Danny Wizceb (Triton College / Vernon Hills, Ill.) cruised with plenty of run support. The right hander tossed 5 ⅔ innings giving up three earned runs.
"As long as our pitching can keep us in the game we'll be competitive because we've been putting up a lot of runs," Borgstrom said.
With the win, Joliet improves to 6-8 on the season, having won three of their last four games. Up next is a doubleheader on Sunday against the Northwest Indiana Oilmen. The first game is at 1 p.m., followed by the second game roughly 30 minutes after the first one concludes. Both games will be seven innings long and broadcasted on the Northwest Indiana Oilmen Broadcasting Network.