News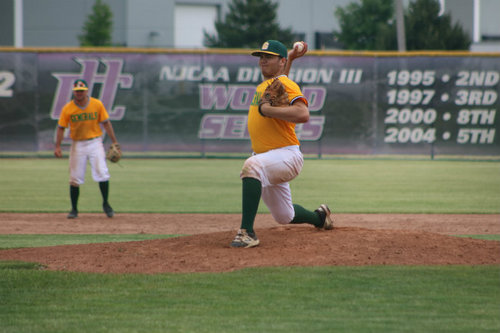 06/02/2018 6:31 PM
-
-By Sam Oppenheim
Mike Santarelli started the Generals season opener three days ago against the Hounds. Three days later, he threw 129 pitches in relief.
"I'm tired but I felt good the whole way," said Santarelli. "My arm felt loose the entire time."
Coming in for the struggling Jacob Diaz in the third inning, Santarelli finished the game, going 6 ⅔ innings strong against the Northwest Indiana Oilmen. In that stretch, he gave up eight runs. But, his defense and offense had his back.
"Guys were making plays behind me and we had a lot of offense," said Santarelli. "It was a lot of fun."
Once again, Joliet had another scoring burst in a single inning. Yesterday, the Generals scored six runs in the third against Crestwood. Today, they outdid themselves. Joliet put up nine runs in the fifth. They tagged Oilmen reliever Bobby Nowak, who came in that inning and only got one out, for six earned runs.
"When we get the leadoff man on, that's the spark that ignites the flame," said Joliet manager Joe Hernandez.
Eventually, the Oilmen tied it at 10 in the top of the seventh inning, but the Generals had an answer. They put up four runs in the bottom of the frame to propel them to victory.
Joliet looks to continue their momentum into the final game of their three-game homestand tomorrow against the DuPage County Hounds. First pitch is set for 1:00 at Wayne King Field. The game will be streamed on the Generals YouTube page.