News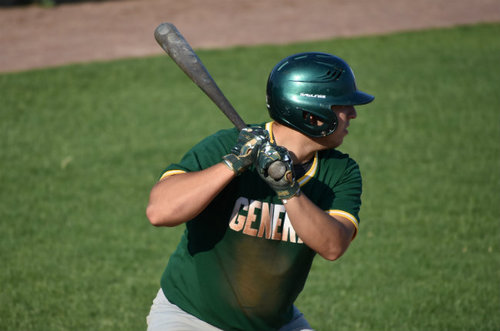 07/11/2019 10:22 PM
-
-By Sam Oppenheim
Joliet, Ill. - July 11, 2019 - With their recent high-octane offensive outputs, loading the bases in the first three innings surely was a positive sign for the Joliet Generals. But, the Generals only scored in one of those innings, and fell 13-6 to the Bloomington Bobcats tonight.
In the first, both teams had the bases loaded with two outs. However, neither team managed to score.
In the second, the Bobcats scored two in the top of the frame. Again, the Generals managed to load the bases with two outs. And just like the previous inning, Joliet stranded all three runners.
Meanwhile on the mound, Jake Meyer (Roosevelt College / Barrington, Ill.) threw for the second straight day, and lasted only 2 ⅔ innings on 75 pitches. He left the game with three earned runs.
Joliet did manage to get those back in the bottom of the third. They loaded the bases for the third consecutive inning, but with one out this time. After a pop out, Rocco Pascente (College of DuPage / Plainfield, Ill.) came through. He lined a single to centerfield that scored two runs. Then, Bloomington centerfield Nick Figus overran the ball, allowing another run to score. The Generals had made it 3-3 after three.
The tie was short-lived, as the Bobcats answered with four in the next half inning. While Joliet's offense has been able to keep pace over the past month, tonight was different. 7-5 was the closest score from there, as Bloomington's six-run eighth inning put this one away by a final score of 13-6. The comeback was not in the cards as Joliet's only extra-base hit was in the ninth.
The Bobcats used just two pitchers, Ryan Leland and Hunter Simon, who went five and four innings respectively.
For comparison, the Generals used five pitchers, with four of them surrendering runs. The only one who did not was usual shortstop Jon Oldman (Aurora University / Dixon, Ill.), who took the mound for the ninth. Oldman held his own, striking out two Bloomington batters. But command problems persisted for the usual Joliet pitching staff. In the eighth, the Bobcats had just one hit but scored six runs.
"We need to throw strikes and not give up free bases," Generals manager Matt Vitulli said. "We need to make sure we make other teams earn their runs."
Joliet will look to do that in their final game before the all-star break. They travel to Midlothian to face the Crestwood Panthers at Howie Minas Field. First pitch is at 7 p.m. and the game will be broadcasted on the Crestwood Panthers Broadcasting Network.