News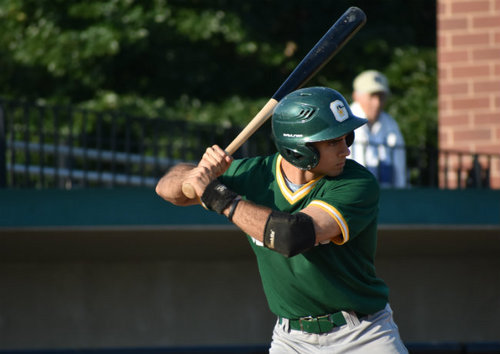 07/22/2019 9:51 PM
-
-By Sam Oppenheim
Joliet, Ill. - July 22, 2019 - After a five-day break, the Joliet Generals were not sure how quickly they could pick up where they left off.
That question was answered early, as the Generals put up five runs in the first, and four in the second, which propelled them to a 12-9 victory over the Crestwood Panthers.
However, the Panthers had the first major opportunity to score. They loaded the bases against Jake Ostrowski (Joliet JC / Lockport, Ill.) in the top of the first. Then, Ostrowski got fellow MCL All-Star Nick Anderson to strike out looking to end the threat. He picked up the victory, throwing five innings and giving up six hits and two earned runs.
In the bottom of the inning, Joliet took to the attack. After a double by Chris Broccolino (Robert Morris - Illinois / Schaumburg, Ill.) and single by Danny Borgstrom (University of Evansville / Morris, Ill.), Devin Buckner (Morehead State / Lexington, Ky.) found a gap to give the Generals the lead. The next two batters walked, which scored Borgstrom. The inning was capped off by RBI singles courtesy of Joe Kelley (Illinois State / Lemont, Ill.) and Ben Jung (UW-Oshkosh / Downers Grove, Ill.).
Kelley and Jung, the eight and nine hitters respectively, went a combined six for nine with five RBIs. Jung, who had three RBIs and a pair of doubles, knows the Joliet lineup is solid from top to bottom.
"We got hitters in every part of the order and we're always looking to swing first pitch," Jung said. "We're picky hitters but we battle back like always."
The offense barrage continued in the second. Eight Generals batters came to the plate in the inning. With a one run already in, Will Krushena (Denison University / Bloomfield Hills, Mich.) singled and Bryant Diel (Triton College / South Elgin, Ill.) reached on an error by Crestwood shortstop Colin Spranger. Right after, Jon Oldman (Aurora University / Dixon, Ill.) doubled to score Krushena and Diel. Kelley followed that up with a single, and an error by Anderson scored Oldman.
Joliet knocked out Panthers starter Breven Daugherity after only two innings of work.
"Hitting is contagious," Generals manager Matt Vitulli said. "Jumping up early like that takes the pressure off of everyone."
Johnluca Moschetto (Carthage College / LaGrange Highlands, Ill.) had another impressive outing in relief for Ostrowski. Over two innings, Moschetto struck out three and allowed no earned runs for Joliet.
The Panthers did manage to make the game closer as the game went on. Crestwood reliever Connor McCloskey threw six strong innings from the bullpen. But, the Generals held on fairly easy to win 12-9.
Joliet is now 8-0 this summer when they score ten or more runs.
"We gotta continue to build off of this," Jung said. "We can use this energy to fuel us throughout the rest of the season."
The Generals play next on Wednesday against the Northwest Indiana Oilmen at Oil City Stadium. First pitch is at 7:10 p.m. and the game will be broadcasted on the Northwest Indiana Oilmen Broadcasting Network.