News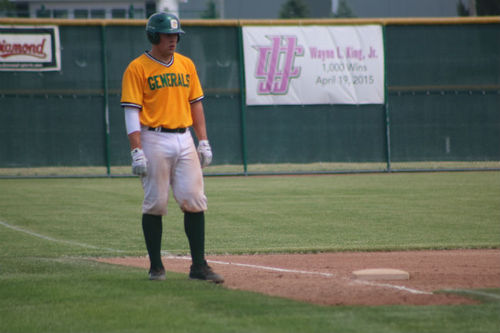 06/03/2018 5:03 PM
-
-By Sam Oppenheim
Less than one week ago, the DuPage County Hounds defeated the Joliet Generals 15-11 in eight innings. Today's game may have given a sense of déjà vu to both teams.
In another high-scoring affair, the Hounds defeated the Generals by one less run, with a final score of 14-11.
"They've got a solid offense and that makes them very dangerous," said Joliet manager Joe Hernandez.
After yesterday's starter Jacob Diaz went only 3 ⅓ innings, today's starter, Mitchell Schroll, lasted even less in just 1 ⅓ innings of work. He gave up seven earned runs in a rough performance. At this point in the season, Hernandez cares most when it comes to pitching about getting everyone back into the routine.
"A lot of these guys haven't thrown in three or four weeks since their college season's ended, so you're gonna see some rustiness starting off," said Hernandez. "I'm going on pitch count more than anything else."
Pitchers Josh Silverman and Alex Herbst both threw more than three innings apiece on the mound in relief, with Silverman giving up five runs and Herbst allowing two.
Offensively, the Generals were hot once again, but did not have that "one big inning" they've experienced in the past two games. A big bright spot was Joe Scaffidi. In his first game for Joliet this season, Scaffidi went 3-4 with two singles, a double, a hit by pitch and one walk.
Meanwhile, DuPage is sitting pretty at 5-0 and all alone in first place in the Midwest Collegiate League. After winning two contests of the three-game homestand, the Generals are in fourth place at 2-3 overall. Joliet has yet to win on the road.
Now, the Generals have an off day Monday before returning to action on Tuesday. They travel to Hap Bruno Field in Chicago Heights to play the Southland Vikings. The game begins at 5pm and will be broadcasted on the Generals YouTube page.