News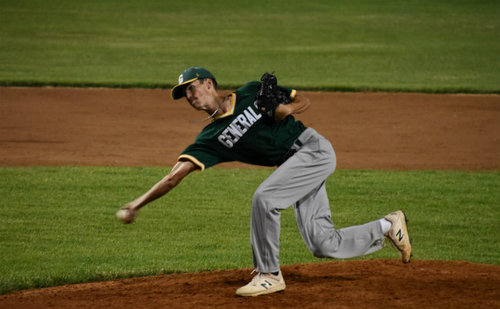 07/26/2019 11:07 PM
-
-By Sam Oppenheim
Chicago, Ill. - July 26, 2019 - Usually, scoring five runs in the top of the first inning means you are well on your way to victory. However, the Joliet Generals gave up tens runs to the Southland Vikings in the bottom of the inning, and went on to fall 21-8.
The Generals got after Vikings starter Logan Strutz early and often. Strutz was tagged for two runs before leaving the game with an apparent injury. He exited with the bases still loaded and nobody out. Southland right hander Michael Botthof came in and allowed those baserunners to score, but held the game there.
Johnluca Moschetto (Carthage College / LaGrange Highlands, Ill.) took the mound with a five-run lead, but faced an explosive Vikings offense. After an error, single and walk, Vikings catcher Jake Schroeder stepped in. The incoming NIU catcher launched a grand slam to left field. Schroeder had seven RBIs in the game. Things unraveled from there as Southland scored ten runs and brought 14 batters to the plate.
It took Moschetto over 50 pitches to get out of the first, and he stayed in the game for not much longer. He was lifted 3 ⅔ innings with 14 runs allowed, only eight of which were earned.
Later on, Joliet sidearm pitcher Clint Underwood (Lewis University / Orland Park, Ill.) had his best relief appearance of the season, throwing the fifth, sixth and seventh and holding the Vikings hitless. He walked two and hit a batter, but managed to keep Southland off the scoreboard.
Offensively, the Generals scored only one time after the first. Botthof threw five scoreless innings before Joliet tallied in the seventh. Devin Buckner (USC Upstate / Lexington, Ky.) doubled and Will Krushena (Denison University / Bloomfield Hills, Mich.) singled to start the inning. Krushena went to second on a wild pitch, and Rocco Pascente (College of DuPage / Plainfield, Ill.) grounded out to score Buckner. Pascente lead the Generals with three RBIs. After a walk, Joe Kelley (Illinois State (Club) / Lemont, Ill.) smashed a two-run single to make it a 14-8 ballgame. Kelley had an impressive night, and lead Joliet with three hits.
The nail in the coffin came in the eighth with an additional seven runs for Southland. They ran away with this one by a final score of 21-8.
"We have to forget about this one and get after it the next game," Generals assistant coach Austin Nelson said.
Now, Joliet has lost three games in three days. They look to bounce back tomorrow afternoon against the Bloomington Bobcats. First pitch is at 1 p.m. at O'Neil Park in Bloomington as the Generals look to snap their losing streak.