News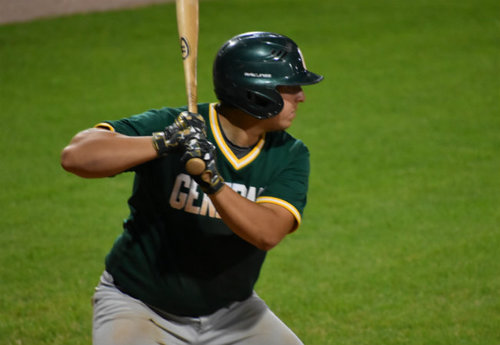 07/28/2019 4:43 PM
-
-By Sam Oppenheim
Midlothian, Ill. - July 28, 2019 - The first inning continues to plague the Joliet Generals, who surrendered eight runs at the start to the Crestwood Panthers, en route to a 10-7 loss.
Back on Friday, Joliet gave up ten runs to the Southland Vikings in the first, resulting in a 21-8 loss.
"It's always tough coming back in a baseball game, especially when it's eight, nine runs," Generals manager Matt Vitulli said.
In the bottom of the first, Joliet right hander Jake Meyer (Roosevelt College / Barrington, Ill.) walked the first three batters to load the bases. He then hit a batter and gave up a bases-clearing double to Panthers outfielder Austin De La Cruz. By the time Meyer had finished the first, 13 batters had come to the plate and eight runs had scored. Meyer went on to pitch the next four innings, giving up only one more run in the loss.
Offensively, the Generals actually outhit Crestwood 16-12. However, those hits were spread out. In the second, Will Krushena (Denison University / Bloomfield Hills, Mich.) launched a solo home run to opposite field. In a three-run sixth, Rocco Pascente (College of DuPage / Plainfield, Ill.) had a two-run homer.
Joliet kept chipping away, but the lead proved to be too much. The Generals added two in the seventh and one in the eighth but never got the game closer than three runs. Crestwood held on for their tenth win of the season by a score of 10-7.
The loss is Joliet's fourth in a row. Yesterday, the Generals lead 7-0 in the third against the Bloomington Bobcats before lightning cancelled the game entirely. Before the final week of the regular season begins for the Generals, they'll have the day off on Monday.
"I think this off day is going to be really good for us," Vitulli said. "Just to refresh and start on a good note next week."
Joliet plays next on Tuesday against the Northwest Indiana Oilmen. The game begins at 7:10 p.m. at Oil City Stadium and will be broadcasted on the Northwest Indiana Oilmen Broadcasting Network.